Brussels and Beijing work to end trade show police raids
Angry patent holders offered mediation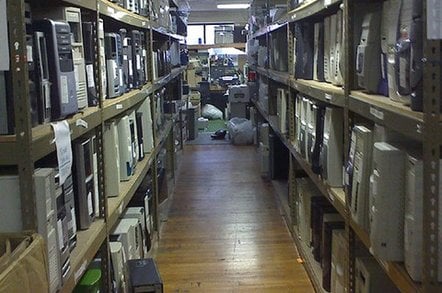 Cebit 09 The entertaining spectacle of German police and customs agents busting hapless Chinese exhibitors at trade shows could become a thing of the past if a joint project between the People's Republic and the EU works as it should. Which is a pity.
China's Ministry of Commerce and the European Commission are funding a China IPR Desk at this year's show, to offer IP advice to Chinese exhibitors and a mediation service for those little upsets when Western firms conclude that their precious IP has been hijacked by their Chinese competitors. The service will provide Chinese firms with access to a brace of bilingual IP lawyers, with pre-show advice and an onsite mediation service.
Recent trade shows in Europe have been enlivened by police busting the stands of companies accused of breaching Western firms' patents. It's fair to assume the organisers have to deal with less public spats between US, European and Chinese firms behind the scenes.
While the raids provide great picture opportunities for journalists and some welcome theatre for show attendees, they also result in seething patent holders, aggrieved Chinese exhibitors and, it's fair to assume, an angry Beijing.
The China IPR Desk has set up under the IPR2 initiative, a European Commission effort to get China to police IP more effectively. Ewa Synowiec, Director at the European Commission Directorate General Trade, said that while China had a full suite of IP laws, "what is lacking is enforcement".
"We're trying to prevent the kind of situation we had at Cebit last year," she added.
Chong Quan, assistant minister at China's Ministry of Commerce, conceded that "in the past, some Chinese firms have made mistakes". At the same time, he said, some enforcement actions had been based on a lack of information. Sometimes Chinese companies had clearance for technologies, or Western firms had asserted rights to which they were not entitled.
Asked why China had been singled out for the creation of a specialist desk focusing, Synowiec said the initiative grew out of the existing work of the IPR2 scheme. Funding will come from the €16m IPR2 budget, €10m of which comes from the EU, with the rest coming from China.
One official said the proposal for the service had come from the Chinese themselves, presumably after last year's embarrassments. One official said that despite its efforts, if a patent holder was determined to get an injunction against a Chinese firm, there was little that Cebit, the Commission, or the Chinese could do about it.
And while the Chinese - and presumably Brussels - both hope the scheme should avoid any further international incidents, they may be disappointed, with rumours circulating a big bust was in the offing for later in the show. ®
Sponsored: Minds Mastering Machines - Call for papers now open