Microsoft: Vista desktop key to life fulfillment
Icons, wallpaper reveal your inner being. Apparently
Forget rummaging through colleagues' drawers - if you really want to know what kind of person the man or woman you're working with is, just look at their desktop.
So claims psychologist Donna Dawson, who was this week called in by Microsoft to help promote Windows Vista. Her method: highlighting users' "desktop personality types" by analysing their chosen wallpapers and icon arrangements.
For example, if you're desktop is splattered with icons then you're likely to be disorganised and prone to losing focus easily, the specialist in "personality, behaviour and relationships" maintains.
However, a desktop with numerous neat rows of icons means you're the sort of person who needs to have everything to hand and who likes to feel in control.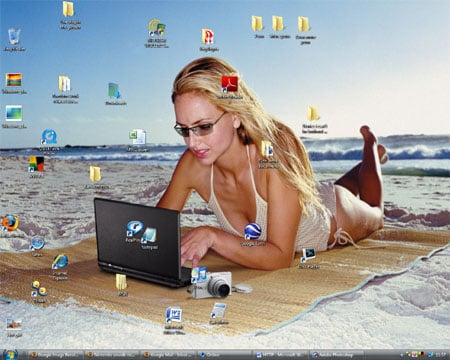 What does your desktop say about you?
Show-offs and those with big egos will have pictures of themselves, say, scoring a goal at five-a-side footie or on the verge of making a bungee jump.
Conversely, shy and retiring types are more likely to have plain blue wallpaper.
"You may not consciously be aware of it but once you know, then you may be able to manipulate how other people think of you," Dawson suggested. "Your desktop can be used to give off a positive message about who you are."
This is the same Donna Dawson who recently revealed, on behalf of HD broadcaster Sky, that watching TV programmes in HD makes you feel better.
Microsoft was quick to follow this insight up with some handy hints to help you take control of your Windows Vista desktop - and, by the above rationale, your personality. Presumably, the software giant hope that the Vista-less - for they are legion - will be eager to be thus empowered and so upgrade their operating system.
According to her website, "Donna advises large consumer-oriented companies on the creation of lifestyle surveys as well as analysing the results, producing reports, quotes, personality 'types', quizzes and convention speeches where required". ®
COMMENTS
NUFF SAID......
She has a yahoo email address and no dentist
Desktop Automatons
Having a Windows Desktop is about as customisable as the paint options for new cars, beyond the Desktop Wallpaper, icon arrangement and whether to have the updated look and feel or the familiar one, all windows desktops look the same.
Automatons would be a better personality description for windows users.
So I guess this makes me... odd?
Our home HTPC stays on pretty much 24x7 for instant usage, from music, films, internet, actual work etc. I guess I agree with this article in someways without even knowing it as I always make sure we have a good wallpaper on screen for whenever the screen or projector is turned on as it's ALWAYS always the first thing you see on screen.
- Dekstop icons off (always)
- Apple dock for Windows Vista (random app works pretty well)
- Auto changes wallpaper on reboot using any of the 1000's of personal photos
- Minimal usage of Windows SideBar (just not on the side)
- Tablet input slides out from the left only when needed (for our Wacom scribble thingy)
I miss DreamScene as it always looked KooL (better with DreamScape), but as our HTPC is on 24x7 it's not ideal due, as the power consumption will drop heavily when idle (15%-24%), but with DreamScene enabled it's higher (27%-41%).
This was taken a month ago, but gives you the basic idea: http://www.fazzfilmz.co.uk/random/asus_forum/screengrab-feb2009
EEE PC woman
Is the purpose of this article just an opportunity to show us the eee pc woman again?
What if...
I don't have a PC, I have a Mac?