Toshiba Portégé R600
Netbook-beating portability
We've mentioned the R600-108's disappointing battery life, and we should here add the screen to the list of weaknesses too. Our battery life test is run with the screen set to maximum brightness, but even then we found the R600's "high brightness" screen rather dim. The display's viewing angle is narrower than most. During 3DMark06's game-style image rendering, the backlight appeared to be illuminating the screen very unevenly, but we think that's more a factor of the display's limited viewing angle than the backight per se. With no bright days this time of year, we couldn't test the screen's outdoor visibility, but it didn't impress us indoors.
That's likely to affect all the machines in the R600 range, but at least other models have optical drives as some compensation. They have better battery lives too. Toshiba quotes four 4h 35m for the R600, but 8h 25m for the R600-101, R600-11Q and R600-10Q, and 9h 30m for the R600-102, which, despite its lower model number, offers the same or better features than the R600-108.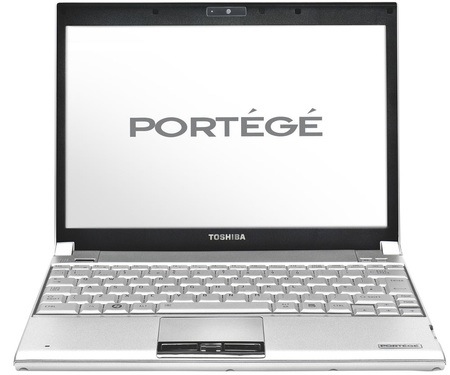 Not a great display
The machine we tested costs a whopping £1839 inc VAT, but only £115 more will buy you the 102 with its bigger battery and optical drive. The 101 costs £1379, for which you also get an optical drive and a longer battery life, but a 200GB HDD instead of the 128GB SSD. The 10Q is £1264, but the saving comes at the cost of 40GB of hard drive capacity and the removal of the HSDPA card.
Balancing features, battery life, price and portability, we'd pick the R600-101 over the R600-108 any day. More storage space, more untethered runtime, more weight (1114g to 800g), lower price - there's no contest.
Mind you, even a pay-extra-for-the-looks netbook, like the Eee PC S101 is still a third of the price. While the S101's PCMark05 scores are lower than the R600's, for the kind of workloads both are likely to be put to, the Asus isn't going to feel particularly underpowered.
Verdict
The R600 is proof, if proof were needed, that laptops are like cars. They'll all get you from A to B, but folk will still buy expensive ones, cheap ones, sexy ones, butt-ugly ones - whatever your preference, there's a model for you. If you're after a compact laptop that delivers better performance than a netbook and equivalent portability, and you can afford the price tag, the R600 is worth a look. But for us, the Sony TT beats it, thanks to a better screen. ®
More Notebook Reviews...
| | | | |
| --- | --- | --- | --- |
| Sony Vaio TT | Samsung Q310 | Asus N10 | Sony Vaio Z11 |
Sponsored: Minds Mastering Machines - Call for papers now open

Toshiba Portégé R600
The R600-108 is wonderfully light, but there are better - if slightly heavier - models in the R600 line-up.