North East to get £30m e-vehicle re-charge network
Infrastructure to encourage local EV manufacturing?
'Leccy Tech Last year, Register Hardware reported on the UK Government's £100m plan to put the UK up with the best in terms of electric car development and infrastructure.
At the time, we thought the announcement was too big on headline numbers that didn't quite add up and too low on specifics. Now, however, an announcement has been made by one of the major players in the Government's initiative - One North East (ONE), the Regional Development Agency covering the - yes, you guessed it - North East.
ONE plans to spend £30m ($42.8m/€33.6m) to develop an EV infrastructure in the region by placing charging points in homes, businesses – apparently Tesco is already "very interested" - and public buildings, and encouraging Nissan to build planned future EVs at the carmaker's Sunderland plant.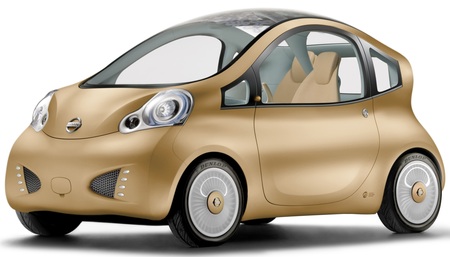 Nissan's Nuvu: set to be snapped together in Sunderland?
Chris Pywell, Head of Strategic Economic Change at ONE, said the region could find global fame as a centre for electric cars in the same way it did for the heavy industries of the past.
Pywell also said the move would tap in to expertise in electric batteries at Newcastle University and that the agency was also in talks with the Washington-based - CD not DC - Tanfield Group, which, as Smith Electric Vehicles, is developing electric vans with Ford.
He went on to say: "We can say we've got the university expertise, research expertise, the political will, a great engineering industry – but arguably others can do that. What we also have to say is, 'We're investing in the development of this infrastructure that enables you to develop your cars to a scale you couldn't do anywhere else'.
"That's the fundamental catalyst. We are going to create the infrastructure to be the first in the world.
"The world will see commercial electric vehicles introduced by 2012. We really need to move on this – this is a revolution that is happening very quickly."
Tanfield is naturally keen for some of that £30m to go towards subsidising 'leccy van fleets in the region.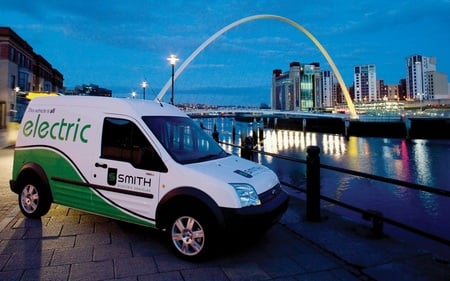 Tanfield/Smith's 'leccy van
A spokesman for Tanfield said: "We believe the best return on investment for the taxpayer would be for ONE to allocate a substantial amount of this £30m towards subsidies for the purchase of electric vehicles. Our biggest barrier to market is the premium that a fleet operator pays for our vehicle over a standard diesel van. If ONE can bridge the price gap with a subsidy, we can sell more demonstrator vehicles into major fleets across the region."
"These seed vehicles will lead to volume orders, which help bring down the cost of the technology, leading to more sales. Subsidies for electric vehicles will jump start a cycle that would ultimately create and underpin jobs."
Currently the Nissan plant builds the Micra, Note and Qashqai models, but Renault-Nissan, and especially it's CEO, Carlos Ghosn, have made it quite clear that they see the the electric car as a cornerstone of their future business.
Nissan's new small-crossover-cum-mini-SUV-thing-a-me-jig, the Qazana, is also due to be built at Sunderland and will be unveiled at the Geneva Motor Show next week. We will be surprised – to say the least - if Nissan-Renault don't make some EV announcements at the same time.
Renault is predicting that domestic French demand for electric cars alone could reach 400,000 units in 2016 - that's about 20 per cent of the current market. If Sunderland can secure a piece of that action, it should be safe for many years to come. ®