Samsung S1 Mini 1.8in external hard drive
Very cute
We conducted a couple of tests with the S1 Mini, copying first a 3GB file to the drive then back to the fast solid-state drive on a Toshiba Portégé R600 - review to follow, folks. Next, we copied across a 14.7GB folder containing thousands of music files. We also carried out the same tests on a 250GB Iomega eGo, which is a 2.5in unit but, like the S1 Mini, aimed at laptop users.
3GB File Copy Results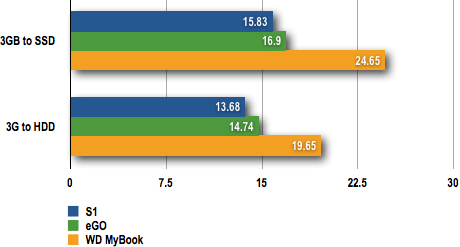 Copy speed in Megabytes per Second (MB/s)
Longer bars are better
We also chucked in some previously recorded figures for Western Digital's 1TB MyBook external HDD, which contains a 3.5in drive powered not by USB - as were the eGo and S1 - but by AC adaptor. The WD numbers were generated on a different computer, so they're not directly comparable, but they give you a broad indication of relative performance.
14.7GB Folder Copy Results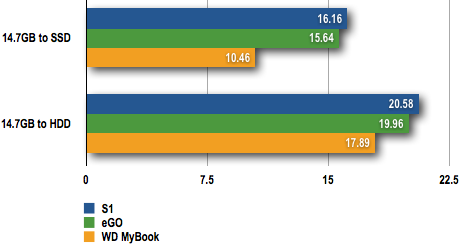 Time in Minutes
Shorter bars are better
You can see the eGo's fractionally quicker than the S1 Mini, but not so much so that if size was your prime buying consideration, you'd overrule it and go for the bigger but quicker product. In short, the S1's no poor performer.
That said, Samsung wants the best part of £130 for the S1 Mini, which puts it toward the top of the price range for compact external hard drives, and since they're all based on 1.8in disks, the S1 has no size advantage. It does look better than most of its rivals, and while the bargain hunter might be willing to put up with a less visually attractive product to save a tenner, plenty of folk won't mind paying extra.
Or you can pay less and get a 2.5in drive that's bigger but packs in much, much more storage capacity and will be quicker too. Cute though the S1 Mini is, it's doesn't seem so appealing when lined up against a typical 320GB, 2.5in offering. A WD MyPassport of that capacity will set you back around £75. That's 23.4p a gigabyte. By contrast, the S1 Mini is a 93.8p-a-gig product.
Verdict
So many storage options, so little time... Samsung's S1 is unutterably cute and with 120GB of storage space on board, it's reasonably capacious for file swapping or backing up key files from a laptop or netbook. Of course, it's not an enormo file bucket - nor is it a high-speed unit. But it offers a darn sight more capacity than other, Flash-based sneakernet storage offerings. ®
More Storage Reviews...
| | | | |
| --- | --- | --- | --- |
| OCZ Apex SSD | WD Caviar Green 2TB HDD | Clickfree Backup | Intel X-25M SSD |

Samsung S1 Mini 1.8in external hard drive
The cutest 1.8in external HDD we've seen, and not a bad performer, but there are cheaper alternatives.