Samsung S1 Mini 1.8in external hard drive
Very cute
Alas, Samsung only favours Windows users with the two apps it bundles on the S1 - not on a CD, you'll note, so make sure you back them up before reformatting the drive. SecretZone allows you to create multiple virtual RAW, FAT, FAT32 or NTFS drives, all password-protected and stored as encrypted images on the S1.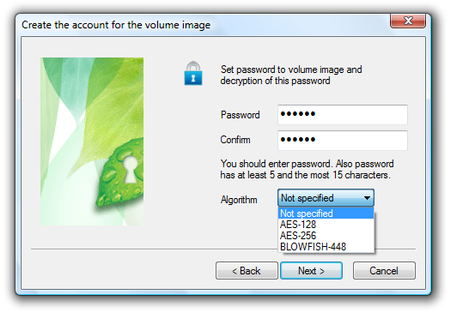 SecretZone supports Blowfish encryption
We've seen similar apps from SanDisk and others, but usually on Flash drives rather than HDDs. SecretZone isn't as user-friendly as some of the alternatives, but security wonks will surely be impressed with its encryption offerings: it offers a choice of 128- and 256-bit AES, and the less well known Blowfish 448.
SecretZone is required for mounting the virtual drives and for unmounting them too - Windows says it's unable to do so. SecretZone will let you delete virtual drives, but while it removes the from the list of available encrypted drives, it doesn't wipe them off the S1.
Auto Backup does exactly what it says: schedule backups to the S1 - or any other connected drive, including networked disks - and keep them updated with up to 999 generations of each file in the folders you tell the app to watch. It'll do a mass copy at the start, and then transfer files as and when they're created or modified on your computer. Backup archives can be password-protected and compressed or left at full size.
Data-restoration runs at the file and folder level. You can select individual documents or whole folders of them and copy them back to your computer, but you'll need a working OS to do so - this isn't an alternative to Norton Ghost or PING, which can replicate an entire drive, operating system and all, and then slap it back onto a bare disk, ready to run.
Again, it's not as user-friendly as it might be. Our first back-up run yielded "47 errors" and a "backup has failed" message, but no indication at all as to what the problem might be. Despite the alleged failure, a whole stack of files and folders were backed up.
Since the S1 has a 1.8in drive on board, you wouldn't expect it to be a speed demon. We've seen various websites state the S1 contains a 5000rpm or a 5400rpm HDD, but we checked with Samsung and were told it's a 4200rpm drive, of model number HS120JY. You can get all the details from Samsung's PDF, here.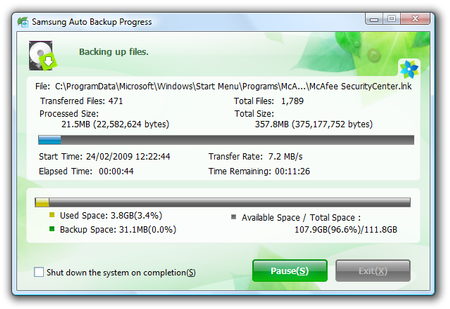 AutoBackup works - but it's no Time Machine
That's interesting, because not only does Samsung's website list it as an end-of-lfe (EOL) product - no harm in that, Samsung's just gearing up not to make any more that model number - but also has integrated USB controller.