Sonim XP3 Enduro ultra-rugged mobile phone
Well 'ard
But this is a phone, unlike most of the feature-packed devices we're dropping into our pockets these days, and as a phone it's a tri-band GSM handset with a quoted battery life of more than 13 days on standby and six hours of talk time - figures with which we found no reason to argue with, beyond the usual impact of real-world conditions. With a screen resolution of only 128 x 160, it's hardly surprising that WAP browsing is a challenge, but WAP is not something we'd recommend on any device.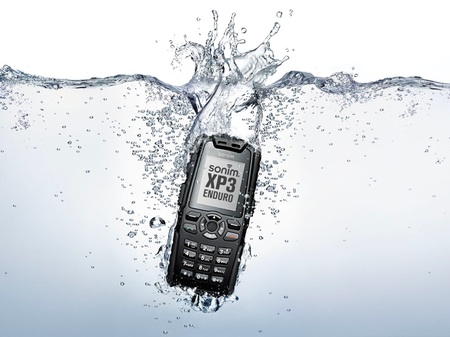 Splashproof
The only damage we did manage to inflict, small scratches to the screen, were achieved by hitting it with a sharp piece of metal, and Sonim assures us it's working on an even harder display, though with a three-year unconditional guarantee it's hardly a reason not to buy an Enduro even if you are prone to attacking your phone with lumps of sharpened steel.
The Enduro is clearly a second handset - one for for weekends spent bog snorkelling, spelunking or suchlike, while you reserve your regular, less hardy phone for the working week. Incidentally, Sonim is working on a 3G phone, so you could use one handset for both roles, but it's not going to be out for some time.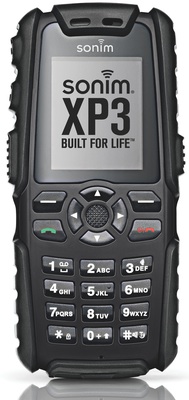 Tough enough?
However, Sonim's next phone, the Quest, which features A-GPS, mapping applications and a camera along with Opera Mini will be available in the summer and for only an additional €50 (£45/$64) on top of the €350 (£313/£445), so you may be tempted to wait.
Verdict
Even if €350 is quite a lot to spend on a second handset, the Enduro fits the role well. Those who spend the majority of their time in hazardous environments might well fancy something like this to resist bangs, crashes and wallops, and the looks will appeal to sci-fi buffs seeking a phone that looks a little more Aliens than most others do. ®
More Rugged Phone Reviews...
| | |
| --- | --- |
| Sony Ericsson C702 | Samsung SGH-M110 |

Sonim XP3 Enduro ultra-rugged mobile phone
If you want an indestructible phone, and you want it now, then you'd be pushed to do better than the Sonim Enduro.