OCZ Apex 120GB SSD
Quirky performer
We installed each drive in turn as the Windows drive, with the other two drives as data drives, and ran HD Tach and PCMark05 benchmarks, as well as transferring 2GB of files between the drives.
OCZ Apex HD Tach Output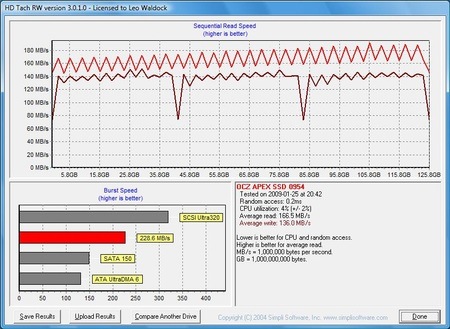 Click for full-size screengrab
Our initial impressions of the Apex were mixed. The figures from HD Tach 3 show the average write speed - 136MB/s - is rather faster than the Intel X25-M, which is 80MB/s. This seems to be evidence of the RAID feature in action. But then its read-speed is considerably lower than the Intel's: 166.5MB/s to the X-25M's 235.1MB/s
The Apex demonstrates a burst speed that is the fractionally higher than the WD and 12 per cent lower than the Intel drive.
In the HDD element of PCMark05, the Apex achieved twice the score of the WD Caviar Black. However, it was substantially lower than the Intel X25-M.
Both HD Tach 3 and PCMark05 are synthetic benchmarks that have been written specifically for rotating magnetic media - data are stored quite differently on an SSD. Specifically, the SSD uses algorithms that level the load to ensure the memory chips are used evenly to avoid wearing them out.
This doesn't necessarily mean that synthetic benchmarks are a waste of time with an SSD, but it does mean that you have to use caution when you refer to the test results. We'd go further than that and say that the current crop of benchmarks reflects the way that Windows XP and Vista use hard drives. We won't get a proper picture until Microsoft finalises the SSD-friendly Windows 7.
Intel X-25M HD Tach Output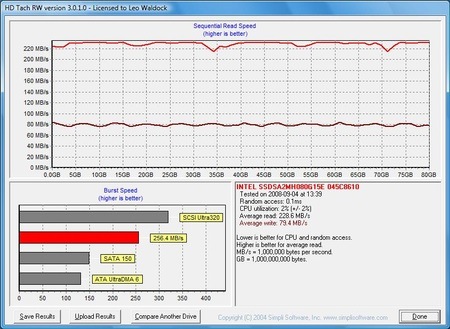 Click for full-size screengrab
The software behemoth talked about Windows 7 Enhancements for Solid-State Drives at WinHEC 2008 and you can grab the PowerPoint here, but we warn you, it makes for dull reading.
Sponsored: Minds Mastering Machines - Call for papers now open