Lexmark E260DN networked mono laser printer
Not as fast as claimed
Support software, supplied on CD, includes a well laid-out driver, which offers support for page collation, multiple pages per sheet, watermarks and control of duplex print, which is standard on the E260DN. There's also a network support applet, so you can access printer status from any machine running it. Both PCL 6 and PostScript Level 3 are provided in emulation, and there are drivers available for Windows 2000 upwards, Mac from OS 9 onwards, and several species of Linux.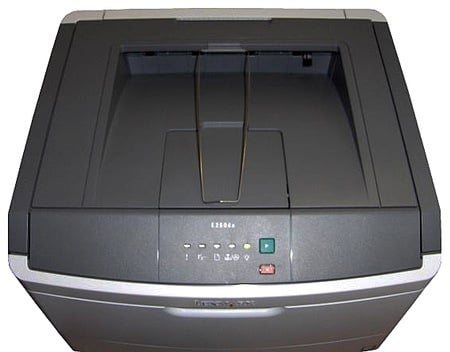 Is this fiddly wire really necessary? Er... no
Lexmark claims a speed of 33ppm for this machine, but it's hard to see how it arrives at this figure. We started testing with a standard, five-page text document and timed, as always, from clicking OK in the Print dialog, to the last page arriving in the output tray. This takes account of processing time, as well as physical printing and is a more practical measure, as you can't do anything with a document until the printer has finished producing it.
The five-page test completed in 19 seconds, equivalent to 15.8ppm - less than half the stated figure. Running a 20-page document, where processing time is a smaller proportion of the complete print, increased the measured speed to 20ppm, but this is still less than two-thirds of the spec sheet figure.
When we switched to draft mode, a trick most printer manufacturers use to produce their headline speeds, there wasn't much of an improvement. The 20-page test, which completed in a minute in normal mode, only speeded up by five seconds when we printed in draft, giving a draft mode speed of just under 22ppm.
The only way we can see Lexmark could reach 33ppm is printing pages with very little text on them, not typical of most office documents. Printing a five-page text and graphics document took 16 seconds, or 18.8ppm - slightly faster than the all-text pages.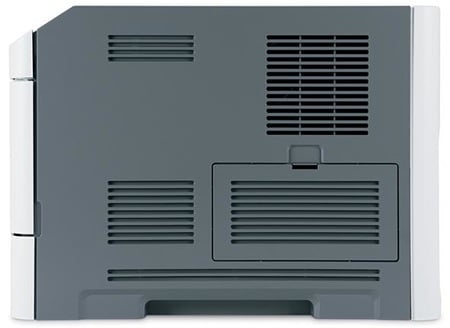 Well ventilated
Printing the 20-page document in duplex mode produced a speed of 7.5ppm or 15 sides per minute. It's very unusual for duplex print to take only a third longer than single-sided output and this is a pretty good result for a machine costing under £200.