Ten of the best... noise-isolating earphones
Can't hear you...
Round-up One of the reasons that noise-cancelling headphones tend to be so expensive is that they use sophisticated electronics to generate their own sound waves that can cancel out background noise such as the drone of an aircraft engine. Noise-isolating earphones take a much more low-tech approach. They simply use rubber or foam earpieces to plug up your lughole so that outside noise can't get in.
This approach is generally less effective – we've seldom come across a set of noise-isolating earphones that block background noise as effectively as a nice big set of ear-covering noise-cancelling headphones. However, it does mean that noise-isolating earphones are smaller, lighter and less expensive than their noise-cancelling counterparts.
It also means that most of your money is being spent on producing good quality sound, rather than paying for the fancy electronics. You really need to pay £100 or more to get a decent set of noise-cancelling headphones, but we've been able to round up a wide variety of noise-isolating earphones that range in price from a mere £10 to over £100.
The important thing to realise about noise-isolating earphones is that the seal created by the earpiece is essential for blocking outside noise, producing a good sound and ensuring a comfortable fit. Any good set of noise-isolating earphones will therefore need to provide multiple sets of earpieces in different sizes in order to accommodate different shapes and sizes of ears.
Griffin TuneBuds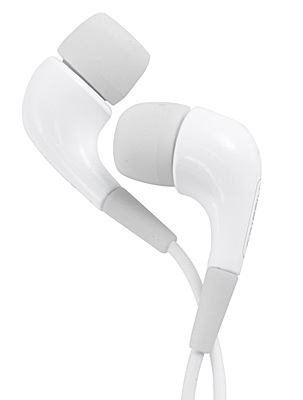 Griffin's TuneBuds are a low-cost option – the white ones we tested cost just £10 - but the luridly coloured (and obviously not very popular) pink and green models are on sale for a fiver. However, they're not a bad choice if you lose your player's normal earphones and you want to buy a replacement set without spending too much money. The noise-isolation isn't particularly effective, but the sound isn't bad – a little thin on the higher frequencies, but not too shrill. You also need to jam them quite firmly into your ear in order to block out background noise and get the best bass sound. However, Griffin includes three sets of earpieces so that you can choose the ones that fit best.
Reg Rating 70%
Suggested Price £15 Find the best online price here
More Info Griffin's TuneBuds page
Verbatim Sound Isolating Earphones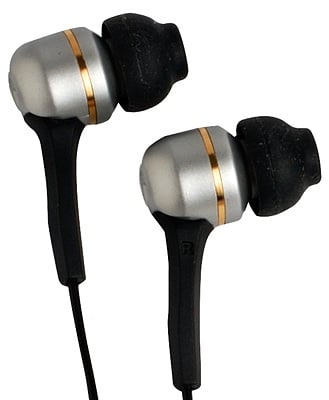 Verbatim is best known for making floppy disks and memory sticks, rather than high-quality audio components. And, truth be told, these new earphones are fairly cheap and cheerful, but they're not bad if you just want an affordable replacement set of earphones. Admittedly, the Sound Isolating Earphones don't actually isolate sound very well, but the audio quality is adequate for a set of 'phones that come in at less than £15. There's also a volume control built into the cable, and you get three sets of earpieces in different sizes to ensure a good fit.
Reg Rating 75%
Suggested Price £15
More Info Verbatim's Sound Isolating Earphones page
COMMENTS
+1 for koss plugs
Cheap as chips, and don't sound bad, but the falling out is a bit of a pain. Also I am prone to wax buildup and these end up looking moderately unpleasant. I also like the CX200s (as my phone has a 2.5mm jack). Am buying some CX300s right this second to try 'em out. £14 seems like you can't go too far wrong.
But no one has followed up on someone's point above about rustling noise from cords. On my CX200s, if they rub against my zip, it's very loud.
Another one to check out
What about Koss Plugs?
My review would be: Less than £15 and incredible bass and they come with a lifetime warranty. You need to work out how to insert them properly. As soon as you do, you get the booming bass and you understand why they're good.
Negative: They fall out quite easily.
A few times I've sent them off to the UK distributor (Hama), included three or four quid, and I've got a shiny new pair back in the post. Sweet!
Anyone that spends over £50 for a pair of earphones is either very very rich, or very very idiotic.
And on a related note, very few people care how good Shure SE310s are, £170 is not affordable for a sodding pair of earphones!
Really worth spending more than £50? CX300 suit me!
Most people listen to ropey compressed MP3s through less than perfect systems like iPods and cheaper kit, so most people would be hard pushed to notice anything good after about the £50 mark. I listen to a lot of MP3 metal, a lot of old live bootleg stuff so I tend to stick to CX300s, the music source quality is dodgy at it's best anyway! Unless you are lucky enough to carry your CDs or own a very, very good FLAC player, don't bother!
CX300s are dirt cheap and reasonable quality, have scoot around eBay or Amazon new/used section, usually get a new pair for about a tenner plus postage.
Verbatim headphones
On your recommendation I bought the Verbatim headphones a couple of days ago - but seriously guys, they are just dreadful!
No treble and much too much bass, almost to the point of being muffled. For the first time ever I had to use the equalizer on my machine in order to get decent sound. Did any of you try these headphones with classical music?
@ James Halliday and anybody on the fence
"I killed my Shures (2 and 4s) on a regular basis by damaging the cable"
Surely you're joking!
I've had Shure e2's for about 2 years now, same pair and they're still pumping away nicely!
I'm very surprised by your comment that the cord breaks because they use such a thick quality cord that i am confident I could strangle someone with them and not have to worry about breakage.
For any of you still on the fence and looking for a pair of in-ear canal-phones, Shures are the way to go.
They were making canal-phones for musicians and live music engineers before anyone knew what a "noise-isolating headphone" was. They are Personal "Studio Monitors" and were made for Musicians!
a) For hearing the subtleties of the music at a very LOUD live concert
b) For hearing instructions and communications at a very LOUD live concert
c) For protecting their most valuable asset (their ears) at a ........
d) For hearing the adjusted levels of your bandmates' riffs while standing next to a very LOUD acoustic drumset which can almost deafen you even without amplification.
So before most of these other manufacturers even existed, Shure was making professional studio audio equipment including the noise-isolating headphones.
I use the Shure e2 which i bought 2 years ago for $100 USD.
But if price is no limitation, there are the E5's which have TWO drivers in each ear-bud and you can go to an ear-doctor to get a mold made of your ear-canal and a silicone plug will be made unique to your ears!!! imagine having a 2-way speaker in your ear.......
oh if I only had the $$$$