Devolo dLAN AVEasy Wireless G
The reach of powerline networking, the flexibility of Wi-Fi
There is an alternative, however, because Devolo HomePlug AV devices have encryption buttons on them, so the network can encrypt itself. Within one minute, you have to press the encryption button on each device for one second and it's done. However, older HomePlug AV devices without this feature will need to make use of the dLAN Setup application - and a firmware update - to work on an encrypted network. Encryption is part of the HomePlug AV standard and – as it is so simple to plug in a device and tap into a network – it's easy to see why, given how this system could migrate to business environments.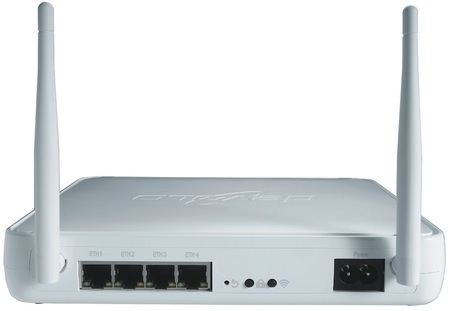 Connections for multiple devices, not just wireless ones
Incidentally, HomePlug AV networks will co-exist with HomePlug 1.0 and HomePlug 1.0 Turbo powerline LANs, but they won't talk to each other. Nor will they talk to 200Mb/s Universal Powerline Association (UPA) kit from the likes of Netgear and Corinex.
During tests, moving the Wireless G box around revealed its more quirky side. Starting from cold, only the power light would show, with the rest of the unit appearing dead for half a minute before any other status light activity kicked in. Needless to say, despite its faultless operation, this seemingly lengthy flatlining is unlikely to inspire confidence in users familiar with ADSL boxes blinking at them within seconds.
Taking the Wireless G unit to typically impossible places in the home for a router allowed tests of its range, and while going through four walls did markedly attenuate its output, nonetheless an adequate internet connection was accessible.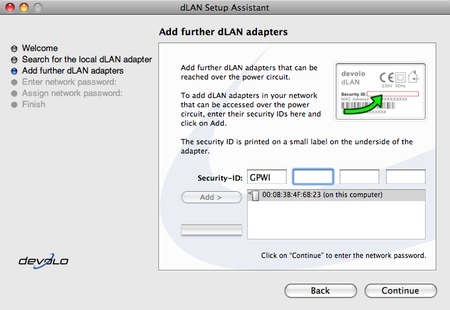 Let the network pick its encryption code - or set your own
Ideally, these HomePlug AV devices should be plugged straight into a wall socket, the thinking behind the rule being that it avoids the potential woes of use on filtered mains blocks that would annihilate performance. Still, tests with 'normal' extension leads and multiplug adaptors presented no problems whatsoever. That said, the dLAN 200 AVEasy adapter can be a squeeze next to other wall plugs. It gets a little hot too, while the dLAN 200 AV Wireless G merely gets warm in the middle on the underside.
Verdict
The Devolo DLAN 200 AV Wireless G Starter Kit replaced an existing networking set-up for a fortnight, streaming audio, video, sharing volumes, as well as everyday internet access. The upshot of it all was that the changeover was completely transparent in terms of performance. There was also the added flexibility of being able to take the option of Ethernet and Wi-Fi to any location within the home. While this system does appear expensive, especially as there's no 802.11n support, it does come with a three-year guarantee and claims to deliver networking for a 200m range over power lines, which seems like a good run for the money. ®
More Networking Reviews...
| | | | |
| --- | --- | --- | --- |
| WD My Book World Edition 1TB | Cisco Linksys Media Hub | Huawei E176 HSDPA modem | Addonics NASU2 |

Devolo dLAN AVEasy Wireless G
It's a bit pricey, there's no 802.11n support, and it's bulky, but it makes for a very flexible and comes with an attractive three-year warranty.