Devolo dLAN AVEasy Wireless G
The reach of powerline networking, the flexibility of Wi-Fi
Furthermore, the dLAN functions can delivers speeds of up to 200Mb/s via Ethernet. This is where the 'AV' addition comes into play, as the system supports plumbing in a VoIP phone or a set-top box for HDTV-quality viewing. As the system is based on HomePlug AV 2.0, the bandwidth is greater than that of HomePlug 1.0 devices. HomePlug AV also features a Quality of Service function that negotiates the available bandwidth among devices to maintain stable connections – essential given the potential demands on this network.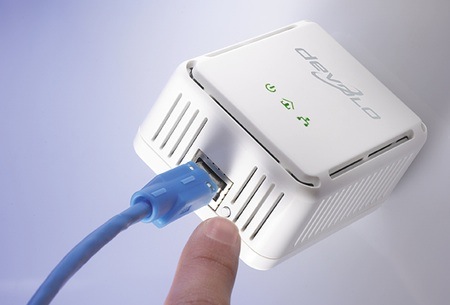 Push button network encryption
Setting up is so easy - it's all plug'n'play - that Devolo seems to have overlooked the pedants - read: cautious - of this world. Supplied is an image-only step-by-step guide plus a CD. The manual on the CD focuses on the wireless unit and neglects the crucial adaptor, which may frustrate those who simply want to get it right, rather than muddle through. What you get is a lot of fragmented scenarios but not a basic, written Step one, two, three…
On the CD, there's software for Mac, PC and Linux. The Read Me advises of a firmware patch and the URL provided revealed a couple of updates which, assuming they were there for a purpose, we downloaded and applied without further ado. The dLAN Wireless Configuration application seems little more than a script that provides browser access to the Wireless G's innards.
Anyone familiar with configuring a Wi-Fi box will whizz through these options in a trice; setting up an SSID and a preferred security system – WEP, WPA or WPA 2. Unsurprisingly, options exist for MAC address filtering and IP address assignment, as well as a password for the box itself. You can, of course, tap into an attached ADSL modem from this network, if the admin access is known.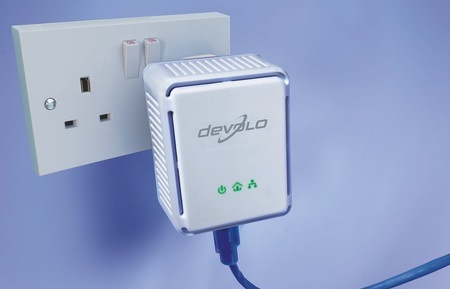 Should leave room for other plugs
The dLAN Setup Assistant is more exclusive to the system, as it identifies devices on the powerline network - in the first instance the AVEasy adaptor and the Wireless G box. With the latter, the MAC address is identified and the unit added by default to the list of secure devices. With the adaptor, its security code needs to be entered. Now this is on the underside of the unit and bloody awkward to see when plugged into a wall. Still, it can be unplugged, noted and then replugged without too much disruption. Once all the devices have been added, a preferred password can be applied to the powerline network.
Sponsored: Minds Mastering Machines - Call for papers now open