KTM: electric dirt-bike out next year
Last one down the gravel pit's a...
'Leccy Tech The race to get the first mass-produced electric motorbike onto the road is revving up. Renowned mud-pluggers KTM has announced it will have a race-ready dual sport machine, the KTM Electro Enduro, in production sometime during 2010.
It being a good 12 months before the Electro rolls off the production line, exact technical details are thin on the ground, though KTM has said it will have a motor that produces 29.5lb/ft of torque.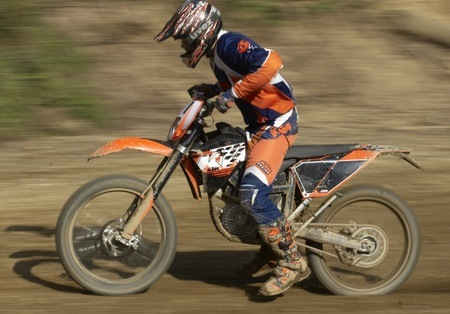 Today's Enduro...
Now that may not sound much, but before we start getting into rice pudding, pulling the skin off arguments it's worth noting that the Electro weighs just 90kg (198lbs), 7kg less than KTM's current single-cylinder 11bhp 125cc EXC Enduro model, and that 30lb/ft of torque is more in line with what you'd expect to get from engines of 250cc capacity or above.
The motor and battery pack together weigh 17kg (37.4lbs), and KTM reckons you'll be able to recharge it in under an hour, though it's not saying what kind of supply you will need on hand to achieve that.
It also says here that a full charge of the Electro's lithium-ion battery pack will be good for a 40-minute thrash under "race conditions", which suggests it should go for considerably longer – and further - when used in a more sensible manner on the road.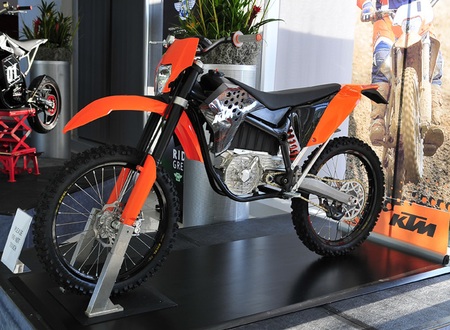 ...and tomorrow's
Without giving away any exact details, KTM has gone as far as to say that it only expects electric bikes to carry a small price premium over their petrol driven brethren.
With any luck, it will be priced aggressively enough to ensure that abandoned quarries across the land will in time resound to the sound of rattling gravel rather than of tortured single-cylinder two-strokes. ®
Sponsored: Minds Mastering Machines - Call for papers now open