Microsoft should get serious on Moonlight
The way to Adobe's heart
I put the Mobile Packager through its paces, targeting a Windows Mobile Smartphone. The runtime is Flash Lite 3.1, which supports only ActionScript 2.0, rather than the much-improved ActionScript 3.0 found in the latest desktop player. Another limitation is that you cannot use FlexBuilder to create your SWF, but only the Flash IDE.
Still, after downloading updates to Adobe's Creative Suite 4, I was soon up and running. I compiled a SWF, then used the Mobile Packager to create a CAB - a standard Microsoft compressed setup for Windows mobile - copied it to the Smartphone and installed it on the device. The setup added a shortcut to the Start menu and the application ran first time. Good work; but less powerful than Microsoft's compact framework for Windows devices, and much slower than native code.
What about Silverlight and open source? Here, the big announcement last week was the release of Moonlight 1.0, Novell's open source implementation for Linux. This project has come together with impressive speed, especially considering that project leader Miguel de Icaza once dismissed Microsoft's Avalon for Windows Vista (which also uses XAML for its layout) as "the J2EE of GUI APIs".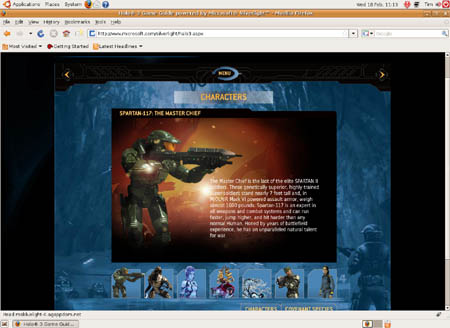 Old Silverlight content runs well in Moonlight 1.0 on Linux
There are a couple of caveats. One is that the current release is pure native code, with no .NET runtime. This makes it mainly useful for multimedia, since most Silverlight applications target version 2.0, which does support .NET code.
Another caveat is that multimedia playback depends on Microsoft's media codecs, which are not open source and which come as a separate download, complete with a stern warning that they are "only for use with Novell's Moonlight 1.0 running in an internet browser".
I tried Moonlight 1.0 on Ubuntu, using the official Silverlight showcase page as a test. Unfortunately the user experience on Linux is poor if you go to a site like this.
If Microsoft is serious about Linux, it needs to make Moonlight more visible. The prompt to install Silverlight takes you to a page that says your system "may not be supported". I went directly to the Moonlight page instead. Installation was smooth, using Firefox, and I returned to the Silverlight samples.
Here, the main issue is that most of examples target Silverlight 2.0. Older 1.0 samples worked fine. Moonlight 1.0 enables Microsoft to tick the Linux box for multimedia, but for application developers this will not be interesting until Moonlight 2.0 appears, promised for September 2009. ®
Sponsored: Minds Mastering Machines - Call for papers now open