Philips brings pr0n web access into the living room
It's the internet, Jim, but not as we know it
Why browse the internet from a tiny mobile phone screen or restrict yourself to a desktop's display, when you can speed along the information superhighway on your enormo flatscreen? That seems to be Philips' mantra anyway, following its launch of Net TV.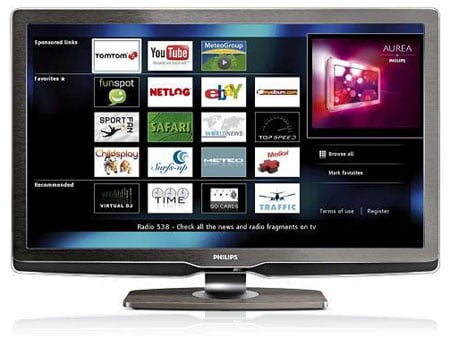 Net TV: available on Philips' high-end TVs
The name says it all really, because Net TV is simply Philips' rollout of Internet access for its high-end TVs, such as the 8000 and 9000 series and the recently previewed Cinema 21:9 ratio set.
Panasonic announced a similar service, VieraCast, back in September 2008.
Although the service's description doesn't appear to promise a laptop quality browsing experience, Net TV will at least let you view the likes of YouTube and eBay on your telly.
Philips has opted for a predetermined selection of sites so that it can ensure optimal display quality. For example, the layout could be slightly different to how it would look on a PC.
On-screen text will also be larger to compensate for the fact that, hopefully, you won't be sat just inches away from the screen.
According to several online reports, Net TV will let you look at other sites too – but Philips makes no guarantees about display quality.
Philips' Net TV service will go online in April. ®
Sponsored: Minds Mastering Machines - Call for papers now open