Reg Hardware trials gesture-controlled videogame
Look ma, no only hands!
MWC Register Hardware just tested gesture-based gaming technology. Our verdict? It rocks!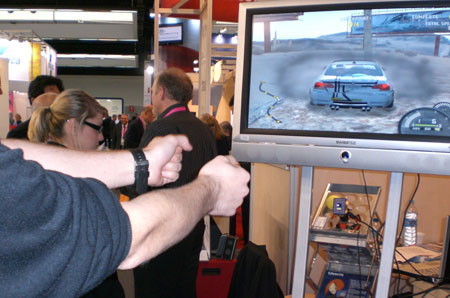 No need for a controller
Gesture-based technology works by tracking the movement of objects, such as faces or hands, and has already been integrated into several mobile phones, including Sony Ericsson's F305.
At Mobile World Congress today, we caught up with GestureTek – the firm behind the technology – to test-drive a gesture-operated driving game.
There was no steering wheel and no buttons - in fact there wasn't any form of controller. All we did was stand in front of "depth sensing" camera – a small, blue box below the TV screen – and hold out both arms as though gripping a steering wheel.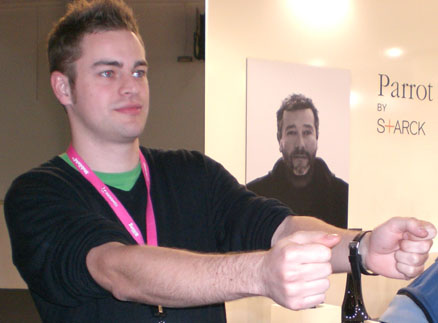 Move your fists further apart to speed the car up
Although initially terrible at the game, we quickly got the hang of it. Move your fists closer together to slow the car down or move them further apart to speed up. Hold your fists about three inches apart to put the car into reverse.
We hope the technology becomes more widely available soon. ®
Video
Hitachi highlights gesture-controlled HD TV - You are your own remote
COMMENTS
Nice idea, but...
Motion-sensing technology doesn't always work out too good - I tried to play Mario Kart Wii once and even WITH the steering wheel attachment I couldn't control it one bit. As Mr. Stewart said, there's also the problem of your arms getting tired - motion tech works best when your entire body's involved, otherwise there's no improvement over using a controller(which can be kept in your lap). Something like this might make a great addon control, though - an FPS could let you raise your hands in surrender(Surrender Force Five, now on sale in France).
RSI?
RSI, anyone?
Surely your arms are aching in no time!