How to upgrade an Acer Aspire One netbook's memory
Screwdriver at the ready
16. Locate the DIMM slot...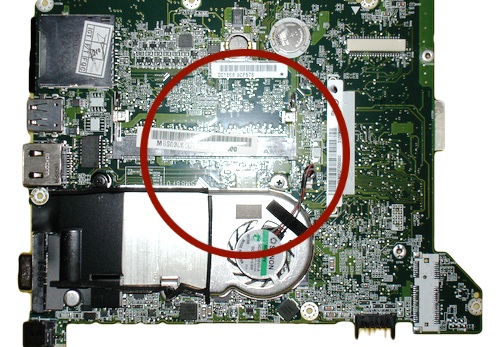 17. ...and clip in your memory card. Use an earthing wriststrap if you have one - if not, touch the bare metal of a nearby radiator pipe to discharge any static electricity on you. When handling the memory, try not to touch the chips and wiring.
We used a 512MB 667MHz DDR 2 Dimm that we took out of an Asus Eee PC 701 when we upgraded it to 1GB, so we re-used that, but memory suppliers like Crucial and Kingston will happily sell you a suitable stick of either 1GB or 512MB capacity. The entry-level AA1 can only access 1.5GB of Ram, so don't buy a Dimm that's 2GB or higher.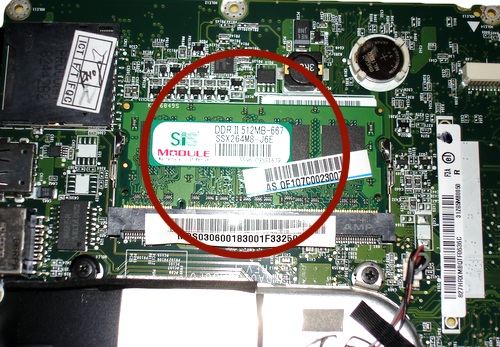 With the Dimm in place, just run back through the steps in reverse order to re-assemble your AA1. Don't rush - and always check at each stage that you haven't snagged any cables and that you've put back the screws.
Gotchas include not siting the computer's VGA, Ethernet and USB connectors correctly, and not replacing the wireless card. Don't forget that bar at the back of the case - the motherboard goes under it not over. Never force anything into position. Don't forget to re-attach the daughtercard cable if you unhitched it.
Ditto the SSD.
Once the motherboard is back in place, the wireless card re-seated and screwed down, the video cable's connected and the speaker cable in place, tuck the upper case under the hinges then clip it down. Give it a last minute push all round to ensure all the clips have locked in place. If some won't go, replacing the under-keyboard screws will hold the upper case down.
Don't forget to re-attach the trackpad - hold the blue plastic, slide the cable into the slot then snap down the black clip. The cable's wires go face down. Re-connect the keyboard in the same way then tuck it under the front of the case, push it down it the sides, then clip it in place at the back.
At this point, you can connect the AA1 to the power cable, start it up and, when the very first Acer screen appears, press F2 to enter the Bios settings. Look for the memory readout on the Main page to confirm the AA1 can 'see' your memory.
If it can't - or if the AA1 doesn't start up - you'll need to open the case up again and check you have all the connections back in place. One time, for instance, we simply forgot to reconnect the video cable. A cool head is essential in these circumstances - rush in in panic, and you're likely to forget to attach something else or, worse, damage your machine. Nine times out of ten, you'll find you didn't reconnect something.
Want to see it all done on camera? There's a very handy video here. ®
Sponsored: Minds Mastering Machines - Call for papers now open