13. Toward the back left of the motherboard you'll find the video cable and connector. The cable's held down with sticky tape - lift it up and then, again using two fingernails, pull the connector forward and out.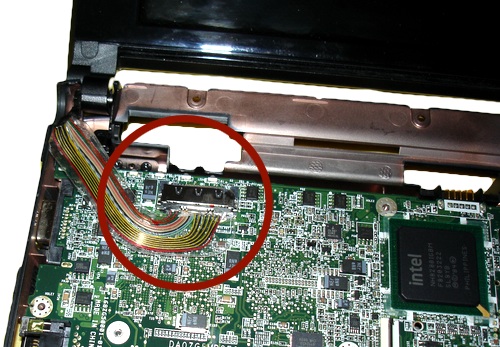 13a. On the right edge of the motherboard, you'll find the SSD connector. It works like the keyboard one: flip up the catch and slip out the cable.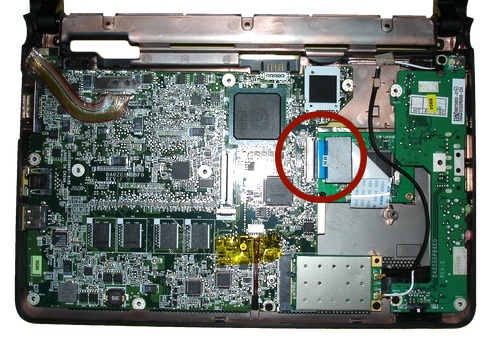 Yes, we missed this earlier. Thanks to reader Owen Carter for putting us right.
14. At this point, you can gently remove the motherboard. There's a plastic tab on the rear left of the case - under the hinge, see below - that holds the board down, so you need to slide the motherboard simultaneously forward out from under it, and right to move the VGA, Ethernet and USB port out from their holes in the side of the case.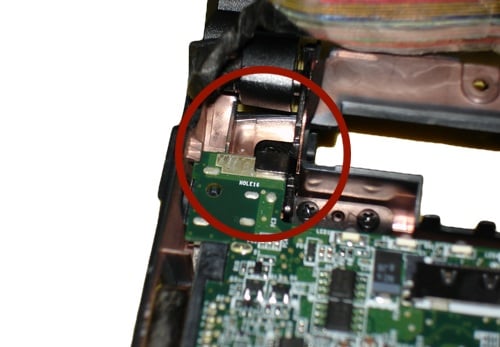 15. Turn the motherboard over, and you'll see the memory slot next to the AA1'a air vent and fan. If you want to remove the motherboard entirely, you'll need to disconnect this cable that connects up the daughtercard.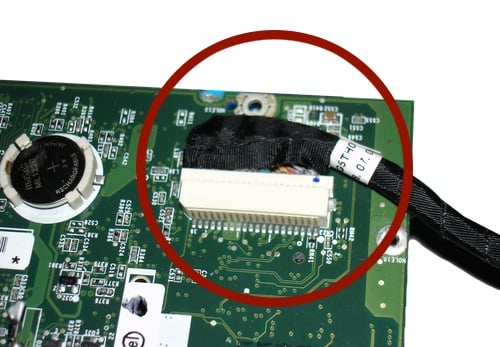 COMMENTS
Can't get the keyboard to pop back in!
I unpopped the keyboard successfully and don't appear to have damaged the springs but I cannot get the keyboard to pop back in now. How do I get the clips to reattached to the top of the keyboard?
Interestring
I think I'll persevere with mine as it is ta! I'm running Ubuntu 8.10 on it at the moment, and after the odd tweak here and there, the machine is perfectly servicable for mine and my girlfriends use.
@ Trolling AC 19th February 2009 18:55 GMT (Can we have a troll icon?)
ODFO.
@Richard Lloyd
Fair and reasonable points, however it's worth remebering that the AAO is/was about a tonne cheaper than most other netbooks.
Asda
Asda do the 160gb HD, 512mb job for 150 squid.
I got one, fitted an extra gb memory and whacked XP/ffdshow on there.
With hyperthreading it plays 720p with only 50% CPU usage. sweet.
Yup yup
Give us more of the hardware stuff I loves it!
This is why I didn't buy an AA1
This 5-page guide (with a link to the video at the end) is one of the two main reasons I haven't bought an Acer Aspire One. Upgrading the RAM on any machine (netbook, notebook or desktop) should *never* be as painful as this! Most machines either have a hatch exposing the RAM or have the DIMM slots easily accessible once you remove (usually only one side of) the case.
The other reason the AA1 isn't worth buying? The pitiful battery life - just about the worst in the entire class of netbooks out there - and the correspondingly expensive replacement battery you have to get to go beyond the 2 hour mark.
A shame really, because with easily upgradeable RAM and a decent battery, the AA1 might have been a contender. Mind you, don't get me started on the AA1's dog slow SSD either :-)