Gigabyte passively cooled Radeon 4850 card
How quieter does your GPU need to be?
In fairness to Gigabyte, the GV-R485MC-1GH behaved during a run of 3DMark Vantage, but the levels of heat coming from the cooler were terrifying, and we didn't have the heart to wait for a blue screen to occur. In a matter of moments, we had a £12 Noctua NF S12 case fan installed, and the temperature dropped to a constant 50°. Although the Noctua is relatively cheap and quiet, you may struggle to mount a case fan to blow on your graphics card unless you can install it in the side panel of your case.
GPU Temperature Results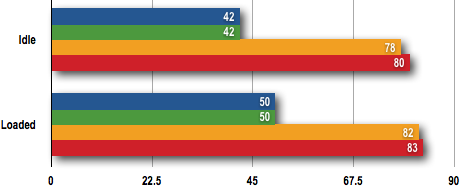 Chip surface temperature in Degrees Celcius

Once we had the Gigabyte under control, we got busy overclocking it and found that the Automated Clock Configuration utility in the Overdrive section of the Catalyst drivers allowed us to crank up the speeds to 725MHz/1150MHz (equivalent to 2300MHz). This was higher than the 690MHz/2286MHz that was allowed with the stock HD 4850 and it shows that the Samsung K4J10324QD-HJ1A memory will run significantly faster than its rated speed of 1000MHz.
The difference in performance between the two cards was minimal in 3DMark06 and 3DMark Vantage. The Gigabyte has a significantly better frame rate than the stock card in Far Cry 2 when you crank up the anti-aliasing but you're actually seeing the benefit of 1GB of memory compared with just 512MB on the stock card.
All in all, the Gigabyte HD 4850 has the same performance as a regular HD 4850 and it overclocks in much the same way, but the passive cooler is very bulky and you need to give some thought to cooling to make the system work.
Verdict
The Gigabyte R485MC-1GH is a reference HD 4850 with a socking great passive cooler. We feel that a case fan is an essential extra, so you're paying at least £30 for the privilege solely of moving the heat around inside the case of your PC. ®
More Graphics Reviews...

Asus ENGTX285 TOP

Sapphire HD4870 X2 Atomic

Sapphire Radeon HD 4850 X2

Integrated graphics
shoot-out
Sponsored: Minds Mastering Machines - Call for papers now open

Gigabyte passively cooled Radeon 4850 card
Not a bad board, but the necessary extras render it pointless as an alternative to the standard Radeon 4850.