BT Granite slimline DECT cordless phone
Making a cordless more like a mobile
Review BT's new DECT handset, the Granite, introduced us to a genuinely new experience. Opening the box, it wasn't the phone that took pride of place under the lid, but its stand. The Granite itself was tucked away under a fold of card right at the back. Unbox the product too hastily and you might miss it.

BT's Granite: slimline
The DECT phone has always been the Ugly Sister to the cellphone's Cinders, lacking the grace, elegance and - more to the point - functionality of their less stay-at-home siblings. BT clearly hopes the Granite will change that, and while the handset isn't bad looking for a DECT phone - and is a lot slimmer than most - it feels depressingly cheap.
Out of the box, it weighs next to nothing, and inserting the slim lozenge of a lithium-polymer battery makes no appreciable difference. Now, not weighing a ton is generally a good thing, but here it only serves to reinforce the flimsy, plasticky feel of the handset.
That sensation is reinforced by the chrome-coloured sides and metal-hued back, the latter with a glossy veneer that does the exact opposite of what we think its designers intended. The (equally glossy) black front looks better, and at least the handset's dimensions have a candybar cellphone comfortable-in-your-hand size.
But back to the battery. BT's quick-start guide and the interior of the battery bay contain dire warnings that the power pack needs to be charged for whopping 24 hours before you can use it - or "YOUR PHONE MAY NOT WORK".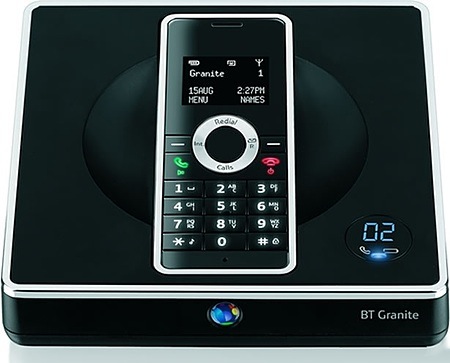 Do not touch for 24 hours... or else
Actually, the capitals are ours, but you still get the feeling this is not a warning you should ignore. Which is odd, given how 90 per cent of phone batteries require only a quick charge before they're ready. And this is a Lithium-polymer cell - not one of your old NiCads or NiMHs that you really did need to leave connected long after the charge light indicated they were good to go.
Sponsored: Minds Mastering Machines - Call for papers now open