TV jacket spied at MWC
France 24 promos app with hi-tech clothing
MWC French news service France 24 has discovered the true meaning of mobile TV: jackets with integrated TV screens.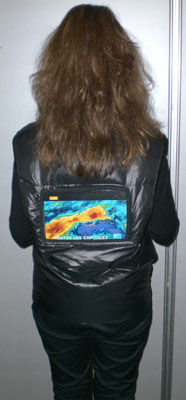 France 24's TV jacket
Big-screen beauties were spotted wondering the halls of Mobile World Congress in Spain today, each wearing padded jackets with rear-mounted TV screens built in. Inside each jacket is a power pack, measuring roughly 4 x 4 x 2in, that drives circuitry able to pick up live TV streams and show it on the screen.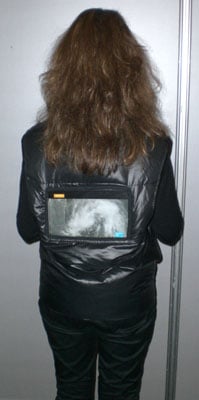 Not much use for the wearer
Sadly, France 24 doesn't have any plans to launch telly jackets.
The hi-tech clothing was actually designed to promote the launch of its TV streaming application for the iPhone. The app allows Apple users to watch real-time France 24 news content on their screens. ®
COMMENTS
Mobile TV is Back
Now all we need is arsecam attached to a HUD. No need to have the HUD that actually justs shows tv bcoz that would just be as pointless as this is.
Multimedia Jacket
Hello,
I have a good news : Cogency is the french design agency which create that multimedia jacket for France 24.
So If you need more informations or prices, you can send your request to this adress : jacket@cogency.fr and we'll answer you quickly.
Best regards
Malika Ben Moussa
Cogency
9 bis rue Auguste Barbier
75011 Paris
FRANCE
01 49 29 67 58
www.cogency.fr
Wow! Just what I want!
A TV I can't see...
Mind you, given what was on when I was channel hopping last night, maybe that is indeed the sort of telly I want.