Cisco Linksys Media Hub 500GB home NAS
The wireless router company does NAS
Thankfully, the iTunes server worked perfectly well on both Macs and PCs when we tried it out - although it doesn't allow you to play copy-protected songs purchased from the iTunes Store. But this does assume that you're already using iTunes as your main audio app – in which case you could use iTunes' existing network sharing options to stream music around your network without needing the Media Hub, though you would need at least one of your computers kept on.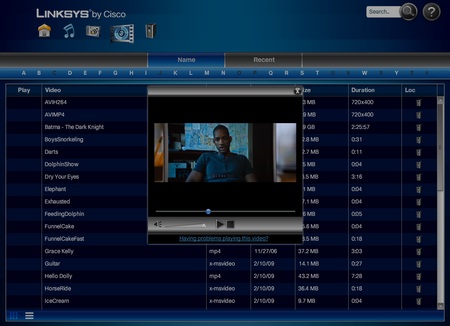 Wil Smith stars in 'I am Legible'...
We also encountered some problems with video playback. The Media Browser relies on web browser plug-ins from video players such as Windows Media Player or Apple's QuickTime Player for its video playback capabilities. So if you want to play formats such as DivX or Xvid you'll need to make sure you've got a suitable player or codec already installed on your computer.
Video files are initially played in a small preview window that's about 350 x 250 pixels in size. Most files also display a 'Full Screen' button that allows you to expand the video image to fill the screen. However, there's no option to simply play video files at their original native resolution, and we also found that some files didn't display the 'Full Screen' button either – which left us squinting to watch Will Smith's I Am Legend in the 350 x 250 preview window.
Playback of MP4 files was rather erratic too, with some files playing perfectly well while others wouldn't play through the Media Browser at all. Linksys says that full-screen playback and MP4 playback depends on the specific codec used to compress a particular video file, but if that's the case then the company needs to be more specific about exactly which video formats the Media Hub can handle.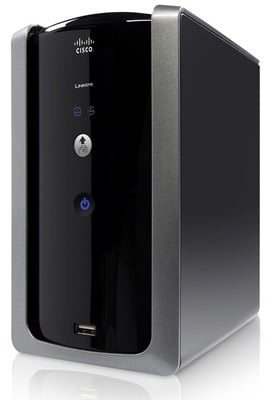 It' cheaper without the screen
Of course, you can get round these playback problems simply by abandoning the Media Browser interface and treating the Media Hub as a conventional network hard drive. This will allow you to play any media file simply by double-clicking on it on your desktop and playing it through the Windows Media Player or any other suitable video player. However, the Media Browser is one of the key features that sets the Media Hub apart from an ordinary NAS drive, so its erratic audio and video playback is something of a weakness.
Verdict
To be fair, there are plenty of other media players and storage devices that struggle when faced with the confusingly wide range of audio and video file formats that are in use these days. However, you can get a no-frills NAS drive with 500GB storage for less than £150 at the moment, so you're paying quite a premium for the Media Hub's headline multimedia capabilities. Some of its features, such as the iTunes server and remote internet access, do work very well. But until basic problems such as AAC and full-screen video playback have been tackled, the Media Hub can't quite live up to its hype. ®
More Storage Reviews...
| | | | |
| --- | --- | --- | --- |
| Addonics NASU2 | Clickfree Backup | WD ShareSpace | DroboShare |
Sponsored: Minds Mastering Machines - Call for papers now open

Cisco Linksys Media Hub 500GB home NAS
A versatile media server, marred by problems with certain audio and video file formats.