Cisco Linksys Media Hub 500GB home NAS
The wireless router company does NAS
When you connect to the Media Hub through your web browser the Hub displays its own Media Browser web page. This shows you a brief list of the most recent files copied on to the Media Hub, and also provides links to further browser pages where you can view your files and adjust other settings. Music files can be organised by album title, artist name or individual song titles, while photos are arranged into albums or listed by date or file name. Video files are simply listed by file name.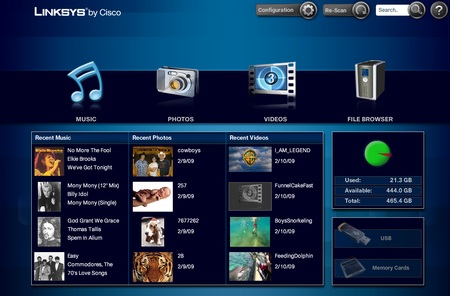 Control the Media Hub through its web-browser interface
The Media Browser interface also includes a File Browser option that can be used to transfer individual files from the Media Hub to your computer. If you want to transfer multiple files, it's faster to just access the Media Hub from your desktop and treat it like an ordinary network hard disk.
This browser-based interface is tidy and easy to use, and it also provides a 'Remote Access' option that allows you to connect to the Media Hub over the Internet, as well as just your local home network. That's handy as it allows you to download or view files remotely when you're away from home, although you'll obviously need access to a decent broadband connection for playing video or large file transfers.
However, internet remote access requires you to log on to a special web site set up by Linksys, and while this is free for the first year, Linksys told us that there will be an annual "maintenance" fee of €10 (£8.95/$12.90) after that. That's a bit disappointing, especially as there are rival products that provide similar Internet access options free of charge.
We also encountered a few rough edges when using the Media Browser web interface to play some of our files. When you select a music album there's a 'Play Entire Album' button that tells the Media Hub to simply play straight through all the songs on the album. This option works with MP3 or WMA audio files, but it didn't work properly with our collection of AAC music files, so we had to keep clicking on songs one at a time in order to play them. We had almost 2000 AAC songs in our library, so the idea of clicking each one individually didn't exactly endear us to the Media Hub.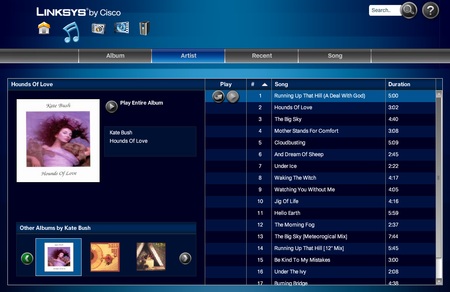 The Media Hub plays MP3s and WMAs OKO, but had problems with AACs
A phone call to Linksys confirmed that the Media Hub needs a firmware update in order to handle AAC files properly, although the company didn't say when that update's arrival is imminent. That's annoying – especially as AAC is listed as a supported file format on the Media Hub's spec sheet. However, the Media Hub does have an iTunes server option that allows it to stream music files to iTunes on any Mac or PC on your network. If you have iTunes installed on your computer, you'll see the Media Hub listed as part of your iTunes Library, allowing you to use any of iTunes' normal playback controls for listening to your music.
Sponsored: Minds Mastering Machines - Call for papers now open