Huawei shows tiny HSDPA Wi-Fi hotspot gadget
One mo' for i-Mo
Modem maker Huawei has introduced what it claims is the world's smallest and lightest HSDPA connection-sharing gadget yet.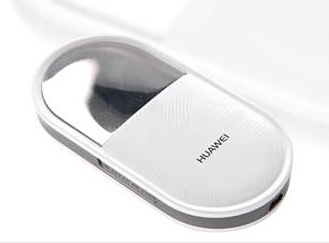 Huawei's i-Mo: not just a 3G dongle, it's a Wi-Fi hotspot too
Dubbed the i-Mo and the size of "a small key chain", the unit looks rather like Huawei's old E220 HSDPA modem, but it has an 802.11g Wi-Fi pick-up on board as well as a 7.2Mb/s HSDPA and 5.6Mb/s HSUPA feed for the internet link.
Pics show it'll come with a small dock into which its mini USB port connects.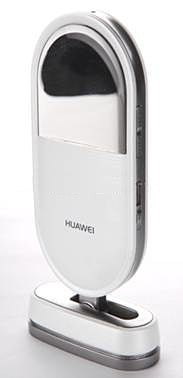 Cradle included
It also has Flash storage on board, allowing it to operate as USB drive. Alas, Huawei didn't say how much memory the i-Mo contains, but it'll undoubtedly say more when the unit is formally launched next week at Mobile World Congress.
Likewise, Huawei's currently keeping mum about pricing. But it did say the i-Mo will go on sale in Q2. ®
Related Review
Huawei E176 HSDPA modem
Sponsored: RAID: End of an era?