Tesla names Model S rollout date
Courtesy of US Department of Environment cash?
'Leccy Tech Tesla has finally set a date for the unveiling of a road-usable prototype of its four-door Model S electric car. The date? 26 March. The place? The Tesla Design Studio inside the SpaceX factory in Hawthorn, California.
Though keeping the look of the S a closely guarded secret, Tesla has said its objective with the Model S was "to create one of the most functional, intuitive and beautiful vehicles on the road". Fair enough, but we wouldn't really have expected them to say it was impracticable, a pig to drive and looked like the back end of a bus, would we?
Other news from the 'leccy sports car maker includes a claim that it will be profitable by "mid year" - doubtless helped by recent price rises - and that it is has sold out of Roadster production until November, meaning that unlike the majority of car manufacturers on the planet, Tesla knows where next months rent is coming from.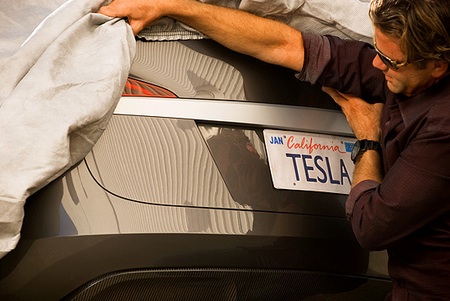 Tesla's S: all you get to see until 23 March
Looking further ahead, Tesla also announced that the US Department of Energy has told it that it expects to begin disbursing in "four to five months" the funds from the $350m Model S loan application that Tesla applied for.
Apparently, this is due to the Obama administration making it a top priority to get the cash from the Advanced Technology Vehicles Manufacturing loan programme out to car makers in order to secure jobs - no bad idea in light of the scale of US job losses in recent months. The funding will be used to set up the Model S production facility and should ensure the car hits the road in 2011.
According to the Associated Press, the DoE hasn't actually approved the loan as yet. But with $25bn of potential funding sloshing about, we think Tesla is probably safe to assume it'll get a slice of the action - not least because, unlike all the other companies with their hands out, Tesla has actually built and sold an electric car.
No news about the technical specification of the Model S, but if you own a Roadster you can get to the front of the queue to own one and get $10,000 (£6,927/€7,746) off the as-yet-unconfirmed purchase price, which, according to Tesla spokeswoman Rachel Konrad, will be below $50,000 (£34,637/€38,372). ®
Sponsored: Minds Mastering Machines - Call for papers now open