NetApp restructures after $75m loss
Large system buying strike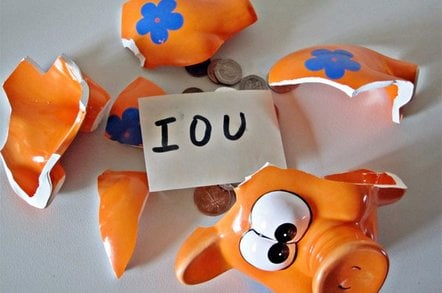 NetApp a turned in $75m loss in the third quarter after corporates went on a buying strike and the firm took a $128m hit from a dispute with a US government agency
Revenues for its fiscal 2009 third quarter (Q3 fy09), which ended on January 23, were $746m, down 16 per cent year on year. Excluding the GSA dispute accrual the decline was one per cent year-on-year.
The net loss is the reason for the five per cent head count cuts revealed on Monday. CEO Dan Warmenhoven said: "Business levels softened in January as many customers' budgets contracted, resulting in lower revenues than we had expected."
The company decreased operating expenses by $30m in the quarter as well as announcing a restructuring.
This involves substantial decreases in the number of contractors used, a reduction in outside services purchased, and rearrangements of its estate lease portfolio, as well as the elimination of around 540 permanent employee jobs.
January was the killer according to Steve Gomo, NetApp's chief financial officer. NetApp customers dropped hardware purchases four per cent in Q3 fy09 compared to Q3 fy08, and bought a lot less add-on software, 28 per cent less. Overall product revenue in the quarter was down 13 per cent year-on-year.
Interestingly revenue actually grew in Europe, the Middle East and Africa (two per cent) but declined one per cent in the Americas and a surprisingly high 11 per cent in the Asia Pacific region. The business decline came primarily from highly-penetrated accounts, NetApp's top 50 customers, with a 20 per cent decline, and although NetApp gained a record number of new customers - over 700 - their revenue yield wasn't enough to offset the existing account drops, and nor was the eight per cent rise in indirect channel revenues.
Major account buying strike
Put crudely, it seems that existing major accounts went on a buying strike in January. In the earnings call Gomo said there was "a shift away from our larger software rich systems which we believe has been driven by customer frugality". It was the high-end FAS 6000 products which saw revenue declines. Ironically NetApp's recent storage effciency measures, such as deduplication, enabled customers to defer disk capacity purchases.
Looking ahead, ONTAP 8.0 will enable NetApp customers to build large systems from smaller components, and this could persuade NetApp not to build further high-end systems. Chief Operating Officer Tom Georgens said: "We still have another high end platform on the road map. We fully intend to deliver that... but I think beyond that, as we see clustering become more pervasive, then I think it is more of an option for debate."
Georgens confirmed that NetApp had eliminated low yield products and inefficient activities, a reference to the closing down of the S Family (aka StoreVault) and Snap Manager for Open Systems. He also said: "SAN bookings are up dramatically and we closed the largest deal in our history this quarter." He reckoned server virtualisation drove the SAN bookings growth.
The US Government Services Agency (GSA) GSA looks after the constructing, managing, and preserving of US government buildings to provide workplaces for government employees. It enables the supply of private sector professional services, equipment, supplies, telecommunications, and information technology to government organizations and the military.
Gomo said: "This dispute relates to a disagreement over our discount practices and compliance with the Price Reduction Clause Provisions of our GSA contract for the time period of 1995 to 2005. Since 2005 most of NetApp's government business has been conducted through a third party who bears all the responsibility for complying with GSA requirements.
"This charge represents an estimate of the final resolution costs and is accounted for as a reduction to the GAAP revenue."
In other words, the US Government thought it should have had a larger discount and now, just as the recession bites into NetApp revenues, it's come calling for a clawback.
The company doesn't know what its revenues might be in Q4 fy09 and offered no guidance. It did say it expected a boost in government IT purchases as a result of the Obama stimulus plan. In general it is intent on focussing on growth opportunities and preserving its revenue-generating potential. The newly hired and trained sales people aren't being laid off as NetApp protects its sales capacity.
The company is set for the deep recession to last through 2010. If it deepens further or lasts longer, then NetApp will have to cut its costs and re-orient its activities yet more. ®
Sponsored: Minds Mastering Machines - Call for papers now open