'World's first' eco satnav hits the road
'Turn right at the next corner... Use less gas...'
The new Econav satnav can't make calls like Garmin-Asus' M20 Nüvifone can, but maker Vexia has promised that its navigation device will help cut your carbon emissions.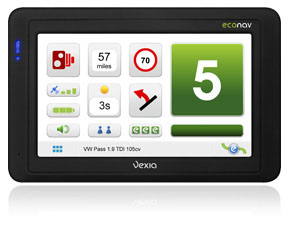 Lexia's Econav: helps reduce petrol consumption and carbon output
Described as the world's first ecological GPS, Econav tells its user in real time about the most economical and ecological way to drive. You tell it your car type, fuel type and number of passengers, and it tells you the best route according to carbon output and petrol preservation.
It also tells you the best gear to use and has an Accelerator Pedal Indicator that shows if you're... er... "using the accelerator pedal correctly". Or not.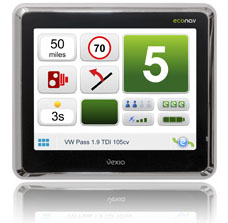 The 350 model (above) has a smaller display than the 430 model
Aside from promising that Econav will pay for itself inside six months, Vexia claimed the satnav will also help cut your carbon emissions by up to 30 per cent.
Two models of Econav will be available when the device launches next month, but the only main difference is that the 350 model has a 3.5in display and the 430 has a 4.3in screen. Regional or European map options will be available for either model.
Vexia said its Econav will be priced from £160 ($226/€176). ®
Sponsored: Minds Mastering Machines - Call for papers now open