Brother MFC-5890CN inkjet all-in-one A3 printer
A big printer for big paper
The machine has a pair of memory card slots, which between them can take CompactFlash, Memory Stick, SD/MMC and xD cards in most of their variants. There's also a USB drive slot, so overall the Brother provides a flexible photo capture system. To the right of the display is a set of illuminated mode-selection keys, a set for menu navigation, and job start and stop buttons.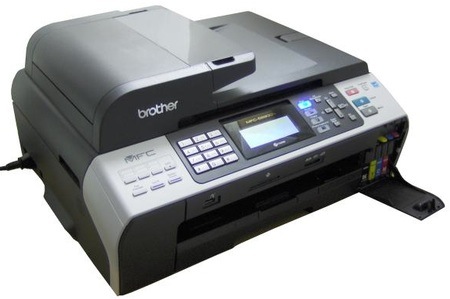 Dead easy access to the ink cartridges
The four ink cartridges slot in behind a cover which folds down from the right front of the machine and are therefore very easy to install and replace. USB and Ethernet cables have to be threaded round inside the machine, as is common with Brother devices, to internal sockets, just behind the control panel, but phone and fax connections, as well as mains power, plug in at the left-hand side, which is less tidy than having them at the back.
Brother makes the usual over-enthusiastic claims for the MFC-5890CN's print speed, claiming 35ppm for mono and 28ppm for colour. These are for A4 printing, but must have been achieved under very special conditions. It's a bit like claiming the top speed of a new milk float is 160mph - by dropping said 'leccy vehicle from a C-17 transport at 20,000ft.
Our five-page black text document completed in 1m 14s, giving a print speed of 4ppm. Increasing the print run to 20 pages, which reduces the proportion of time spent processing and rasterising pages, still only increased it to 4.5ppm. A five-page text and colour graphics document gave 2.6ppm, less than a tenth of the rated speed.
If you take the page size up to A3, speeds are a bit better, proportionately. A five-page text document took 1m 52s, and the text and graphic equivalent took 2m 57s. However, a full A3 photo took 14.5 minutes - and a lot of ink, too. A single-page photocopy took just over 40 seconds and a five-page copy, from the ADF, took 1m 14s.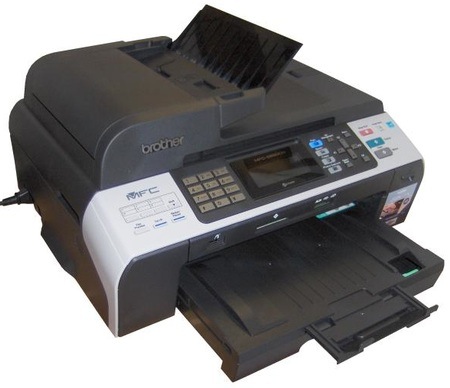 Pull out the tray only when you need A3
Brother can claim its speeds are for draft print mode, but how often do typical customers print in draft mode? We believe many don't realise there's more than one standard of print and most don't like the dotty look of draft print. An ISO standard for measuring print speeds is well overdue. The one now adopted by all the major printer makers for page yields has made a big difference to like-for-like comparisons.
Sponsored: Minds Mastering Machines - Call for papers now open