AMD Phenom II Socket AM3 processor
The chip maker's back in the game
Despite running stacks of tests and generating reams of figures and charts, the results are fairly simple to summarise. One word of explanation about our results first though: SiSoft Sandra doesn't recognise the L3 cache in the Phenom II X4 810, although it worked properly with the X3 720 and X4 940.
Our main finding is that DDR 2 and DDR 3 deliver the same performance with Phenom II, and it doesn't matter whether you use DDR 3 at 1333MHz or 1600MHz. If you're running your CPU at stock speeds then DDR 3 saves some 10W, but when you overclock the CPU the difference in power draw is negligible.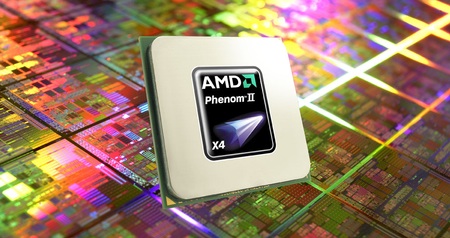 Watch out, Core 2...
The key feature for performance is clock speed rather than the number of cores or the type of memory, and the X4 940 rules the roost here as it starts at 3GHz and overclocks to 3.6GHz. It costs £190 and is worth the extra £30 over the X4 810. When you overclock the two processors, the difference shrinks from 400MHz to 220MHz, which brings the new X4 810 into contention.
By contrast, the triple core X3 720 loses out in CPU-intensive benchmarks that stress all of the processor cores but is superb in the real non-threaded world. It delivers plenty of speed and overclocks to 3.5GHz, which, at £131, makes it a champ.
These new processors make AMD highly competitive against Intel's Core 2 Quad. The Q9300, for instance, retails for £171 and Phenom II gave it a good kicking. That's a phrase your reviewer hasn't used since the glory days of the Athlon 64.
Make no mistake about it, if you want high performance you should get a Core i7 920 and clock it to 4GHz. In the mid-range, Phenom II is taking the fight to Core 2, although another round of Intel price cuts may, once again, upset the balance.
Verdict
The introduction of DDR 3 doesn't make a fundamental difference to Phenom II, but the new Socket AM3 processors deliver plenty of bangs for your buck and put AMD right back in the game. ®
Sponsored: Minds Mastering Machines - Call for papers now open

AMD Phenom II Socket AM3 processor
Under pressure from the X4 940, the X4 810 comes back into play when it's overclocked.

AMD Phenom II Socket AM3 processor
Superb in the real non-threaded world, for this price, it's a steal.