AMD Phenom II Socket AM3 processor
The chip maker's back in the game
Those part numbers suggest that the numbering system works thusly:
X3 is triple core and X4 is quad core
X4 800 series has 4MB of L3 cache, X4 900 series has 6MB of L3
x05 runs at 2.5GHz
x10 runs at 2.6GHz
x20 and x25 are clocked at 2.8GHz
x40 is clocked at 3GHz
Added to that we hear rumours that the next models to be released will be Phenom II X4 925, X4 945 and 950 with respective speeds of 2.8GHz, 3GHz and 3.1GHz. This makes life horribly confusing as the Phenom X4 920 and 925 and the X4 940 and 945 will be identical apart from the processor socket. This means that there is the possibility that some poor so-and-so will buy an AM2+ CPU and an AM3 motherboard when ne'er the twain shall meet.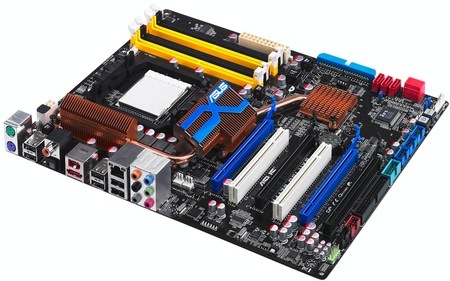 Asus' M4A79 Deluxe: based on the AMD 790FX chipset
It's something of a mystery why AMD will sell the Phenom II X4 810 with 4MB of L3 cache to the buying public while it reserves the X4 910 with 6MB for OEMs.
AMD sent us two of the new AM3 processors to review in the shape of a 2.6GHz X4 810 and a 2.8GHz X3 720 Black Edition that has an unlocked multiplier. The obvious problem is that we have already reviewed the 3GHz X4 940 and there is no way that a 2.6GHz 810 will be capable of making up a 400MHz deficit even if it has DDR 3 memory. On the bright side, the X4 940 has a TDP of 125W, while the five new CPUs have a TDP of 95W.
We were able to test both processors back-to-back with a pair of Asus motherboards that use the AMD 790FX chipset. The M4A79 Deluxe is an AM2+ model that supports up to 16GB of 1066MHz DDR 2, while the M4A79T Deluxe supports up to 16GB of 1333MHz DDR 3, which rises to 1600MHz if you overclock.
AMD doesn't seem to be charging a premium for the DDR 3 goodness of Socket AM3 over AM2+. However, there is a small cost consideration when you select your motherboard and memory. The Asus M4A79 sells for £159 while the M4A79T cost £20 more. When it comes to memory you can buy two bars of 1GB DDR 2-1066 for £40, while 2 x 1GB DDR 3-1333 typically costs £55. We were able to find a basic 2GB kit of DDR 3 for £36 online.
This means that there is only a tiny difference between the cost of a Phenom II set-up with DDR 3 instead of DDR2. That leaves the question of performance, so we lined up the two processors, along with a Phenom II X4 940, and gave them a damn good thrashing. We used all three processors on the AM2+ Asus with DDR 2 and also ran the AM3 processors on the DDR 3 Asus motherboard. We added a Core 2 Quad Q9300 on an Intel DX38BT motherboard into the mix with the same Kingston DDR 3 memory that featured in the AM3 test systems.
Other common components in the test systems are an AMD ATI Radeon HD 4870 X2 graphics card, an 80GB Intel X25-M SSD and Windows Vista Ultimate Edition.
Sponsored: Minds Mastering Machines - Call for papers now open