Apple iPhoto gets in your face
You look great. It's getting old
And a few more tweaks
In addition to Faces and Places, iPhoto '09 also improves - or, at least, changes - a few other items that were already available in iPhoto '08 or earlier.
Take photo editing, for example. iPhoto was never intended to be a full-on image-editing app like Photoshop, but it has for years offered some basic image-enhancement tools.
One-click Enhance is still available - and it's still hit-or-miss. You'll also find simple Red-Eye correction and a basic Retouch blemish-buster. Basic image Effects such as Sepia, Antique, Vignette, and more haven't changed at all.
The Adjust dialog sports a new Avoid Saturating The Skin Tones check box - which works decently - and adds a new Definition slider, which Apple says will "improve clarity and reduce haze in your photos" by limiting contrast changes to an image's background. Its success is subtle, but noticeable.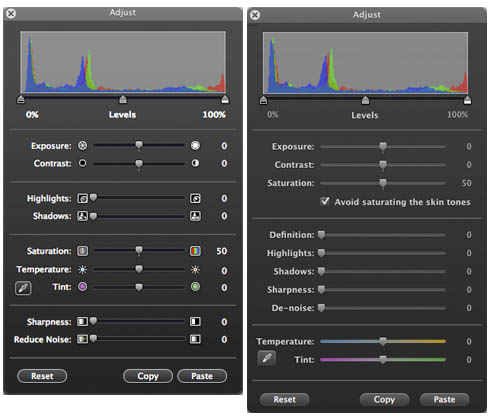 The image-editing Adjust dialog picks up two new tricks ('08 left, '09 right)
Keywords, used to tag and group photos (but not Events), were introduced way back in iPhoto 2.0, part of the original iLife bundle. Zero-to-five-star photo-rating appeared in iPhoto 4.0, part of iLife '04. Both are still there, still operating in much the same way - which is to say that they're time-consuming to use and often ignored by all except the most anal-retentive iPhoto users.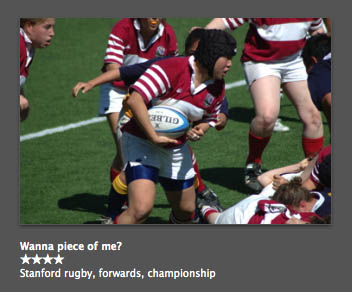 You can still title, rate, and apply keywords to your photos - should you ever want to
Slideshows, on the other hand, have been gussied up noticeably. The most obvious improvement is the addition of Themes to other controls such as adding music and tweaking slide durations and transitions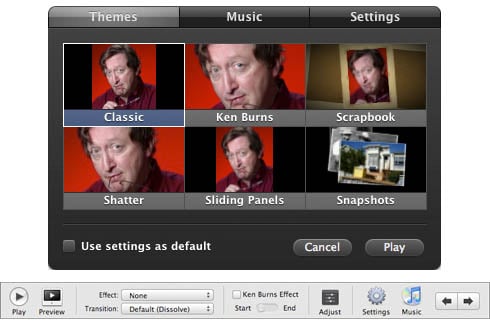 iMovie '08 (bottom) allowed only basic tweaks to slideshows; '09 (top) ups the ante with Themes
Among the six bundled Themes are an animated Scrapbook that unfortunately crops images a bit too drastically. There's a psuedo-psychedelic Shatter that you'll use once, exclaim "Oh wow!," and never use again. And there's a tasteful Sliding Panel slideshow that slips multiple images onto and off your display.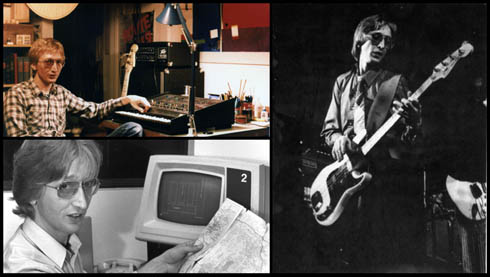 Relive your youth using the multiple-image Sliding Panels slideshow Theme
One last bit of new niftiness: You can now upload photos and albums from iPhoto to Facebook or Flickr with a single click once you've set up an account on those services and informed iPhoto of your account details. When we uploaded a load of vacation photos to our Facebook page, the operation went without a hitch. Expect to see even more cameraphone-shot teen-party shots on Facebook in the near future.
The final word
iLife '09 adds one truly useful new feature (Faces), and one fun-but-less-than-compelling one (Places). It also upgrades a few other familiar elements, most notably Slideshows.
Some of its older photo-organizing elements, such as Keywords, Ratings, and Flags, are holdovers from earlier versions - and it shows. Perhaps Apple left them in for folks who have spent tons of precious time hyper-organizing their photo collections and who would have a coronary if all that work were to be rendered useless.
Still and all, iPhoto '09 is a worthy upgrade, if not worth the entire $79 fee Apple asks for iLife '09. Whether the entire five-app creativity suite is worth that price is a question we'll answer as we trip through the other four apps - iMovie, iWeb, iDVD, and GarageBand - in coming days. ®
Sponsored: Minds Mastering Machines - Call for papers now open