Aerielle i2i Stream 2.4GHz music streamer set
Wireless music streaming for dummies
Of course, we'd be the first to admit that pumping music through an amplifier's headphones jack, two i2i Streams and a fifty quid pair of powered speakers is hardly likely to keep the folk at Sonos or Logitech awake at night, but the results were still very far from shoddy for an all-in outlay of under £120.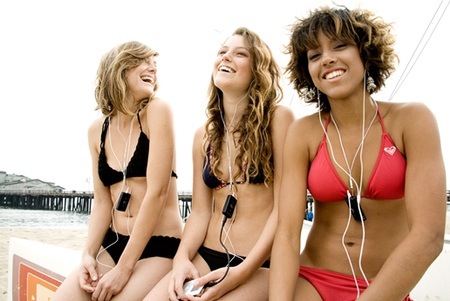 i2i streaming among friends
Maximum range is quoted as "30+ feet" or nine metres, a number we take no issue with. In practical terms, this meant that no matter where we set up a network in a three-bedroom semi, we got a clear signal and suffered no interference from the five Wi-Fi networks – including our own – in the vicinity.
One of the handy things about the Stream is that you can keep adding to the network as long as each receiver is set to the same channel colour as the transmitter. i2i also reckon that up to three Stream networks on separate channels can co-exist quite happily within the same 30ft radius but you will have to take its word for that.
The user guide states that a full charge is good for between five and seven hours but we found this to be just a touch optimistic. When tested, our transmitting Stream died after 4.5 hours though the receiving module only soldiered on to the 6.5 hours mark.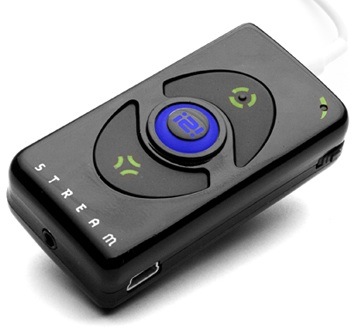 Wireless music streaming for dummies
Since charging takes an average of five hours and the modules will bizarrely neither transmit nor receive while being charged, keeping a Stream network up and running throughout the day is a tough gig unless you have spare – and charged - modules. i2i say its optional DC 6V adaptor will reduce the charge time to two hours, but not having one on hand to test we can't vouch for that.
Verdict
As a twit-proof way of getting audio from A to B, the i2i has a lot going for it. Set up is very easy, signal quality and range more than acceptable and the price is right too - the two-module Stream pack costs £68.51, which is pretty fair value for such a versatile bit of kit. Shame you can't use them while charging, should you just want to keep them plugged in. ®
More Music Streamer Reviews...

AudioEngine AW1

Logitech Squeezebox Boom

Creative SoundBlaster X-Fi
ExpressCard

Logitech Squeezebox Duet
Music Wireless Streamer Group Test
Sponsored: Minds Mastering Machines - Call for papers now open

Aerielle i2i Stream 2.4GHz music streamer set
Wireless music streaming for dummies - and on the cheap too.
Price:
£69 (pack of two) RRP