AMD Phenom II Socket AM2+ CPU
Core i7 killer?
We overclocked Phenom using AMD's OverDrive utility as it's slightly easier than monkeying around in the Bios. Overclocking a Phenom used to be a painful experience as you have to use a certain amount of trial and error with the voltage settings and all the while you require a rorty cooler pounding away at full chat. Overclocking Phenom II takes a similar amount of work but you can carry over any settings that work with Phenom so the process is quicker and the noise level is significantly lower.
The results of overclocking Phenom II are impressive and we managed to hit a stable speed of 3.6GHz - an increase of 600MHz. With a 65nm Phenom, you'd be lucky to overclock by 400MHz.
Power Draw Results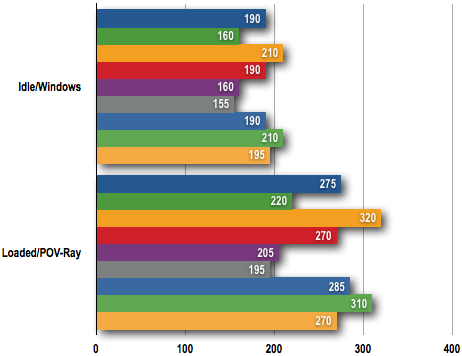 Power draw in Watts (W)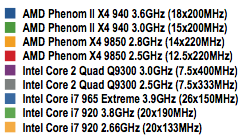 The bad news is that Phenom II needs all the clock speed it can get as our 3GHz Phenom II had very similar performance to a 2.5GHz Core 2 Quad Q9300 at stock speeds. When we overclocked the Phenom II to 3.6GHz and the Q9300 to 3.0GHz, the Intel processor overtook the AMD in Far Cry 2, which suggests that clock-for-clock Intel has the edge. Part of the answer may lie in the use of DDR 2 memory rather than DDR 3, and you can be sure we 'll investigate this further when we look at the AM3 version of Phenom II.
Further up the performance scale, Phenom II X4 940 compares well with Core i7 920 at stock speeds. However, the 920 can overclock to 3.8GHz which lifts it far beyond the reach of Phenom II.
That positions Phenom II squarely in the mid-range and it gives AMD something of a problem. Phenom II offers an expensive upgrade path for existing AMD desktop customers that pushes the limits of value for money. But anyone building a new performance PC should have Core i7 on their shopping list.
Phenom II has made useful advances over Phenom, and we have to hope for AMD's sake that DDR 3 memory gives a further boost to performance.
Verdict
AMD's Phenom II is better than Intel's Core 2 Quad Q9300 but not a patch on Core i7 and that's a problem. AMD is playing catch-up with a die-shrink and a move to DDR 3 while Intel is busy changing the world. ®
More CPU Reviews...

Intel Core i7

VIA Nano
Preview

Atom 230

AMD Phenom X3 and X4
Sponsored: Minds Mastering Machines - Call for papers now open

AMD Phenom II Socket AM2+ CPU
AMD's Phenom II does well against Intel's Core 2 Quad, but Core i7 remains the champ.