Asus N50 15in laptop
Have integrated ionizer, will purify air
The system comes loaded with Vista Home Premium, and the hardware rates a Windows Experience score of 3.5 which breaks down into 4.9, 4.8, 3.5, 4.7 and 5.3 for CPU, memory, desktop graphics, gaming graphics and HDD respectively.
Battery life wasn't exactly impressive. By setting the N50Vc to run PCMark05 in a constant loop before pulling the plug - our standard battery life test for laptops - it managed to hold out for 111 minutes before giving up. This is obviously an extreme test and you'd typically expect to get around twice that in real world use. That's rather less than we've achieved from other laptops, none running particularly slower CPUs or GPUs.
Battery Life Results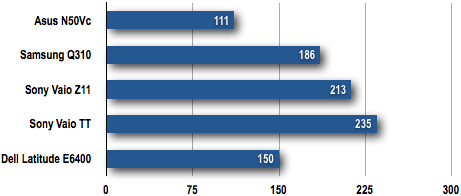 Battery duration in minutes
Longer bars are better
The N50Vc is a solid workhorse, and its performance is reasonable. But you're paying for the design and the Blu-ray drive. Drop the latter, and an equivalently specced big-brand 15.4in laptop can be had for around £500.
The Asus' numeric keypad nestled in alongside the keyboard, for example, is a welcome addition, and some might even be tempted by the integrated ionizer. But the relatively low resolution display means you can't make the most of the Blu-ray drive without hooking the computer up to an external display.
Increasing the pixel count even just to 1440 x 900 would make it a much more useful machine. As it stands, the N50's current resolution means the only real benefit of the 15.4in screen is that everything appears quite large. A PC for the short-sighted, perhaps?
Verdict
Asus has come up with a nice-looking notebook, of that there's no doubt. But unless you're desperate for the frills - ionizer, Blu-ray drive, separate numeric keypad - you can buy a machine that's just as good a performer for less. ®
More Notebook Reviews...
| | | | |
| --- | --- | --- | --- |
| LG X110 | Samsung Q310 | HP HDX16-1000 | Toshiba NB100 |

Asus N50 15in laptop
The N50Vc offers a decent amount of grunt and some extras like Blu-ray, but it's let down by its low res screen and price.