iRiver Spinn media player
Why settle for a touchscreen when you can twiddle a knob too?
Interesting and novel though the Spinn's hybrid UI is, it's hard not to feel it is also just a little pointless. If the touchscreen worked better, you wouldn't need the spindle, so the player could be made smaller or the screen bigger. On the other hand, with the exception of some of the optional settings, the Spinn can be used without actually touching the screen at all.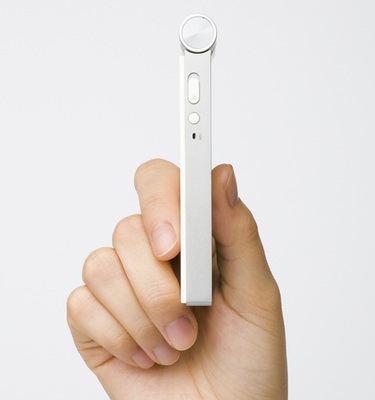 Could have been made smaller
Typical of the Spinn's rather half-formed UI are the 'back' controls. Both the button on the top of the player and the control on the screen are too small to be used comfortably and neither is in a particularly convenient place for a function you'll be using regularly.
Within the limitations of what part of it you can actually touch, the resistive touchscreen reacts smoothly and promptly, especially once we updated our review device's firmware from version 1.21 to 1.50.
The Spinn comes with a full complement of haptic feedback for both the screen and the Spinn wheel. They work just fine if you like that sort of thing, but can be switched off if you don't. Though the Spinn lacks an orientation sensor to auto-rotate the screen if the device is turned round, this is one of the functions that can be assigned to a long-push of the spindle.
Incidentally, since the Spinn's UI is Flash-based, getting hold of new menu styles is simply a case of tracking down some relevant Shockwave Flash files and dumping them into the player's Themes folder. It took us less than ten minutes to find some on a Korean site, all of which looked much better than the basic design provided by iRiver.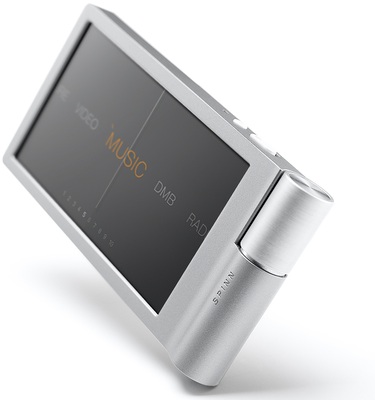 Touchscreen or spindle - the choice is yours
Codec support encompasses MP3, WMA, Ogg, APE, ASF and Flac audio, along with MPEG 4 Simple Profile and WMV video - so no AAC audio or H.264 video. Subsidiary file support only extends as far as JPEG and TXT files.
Sponsored: Minds Mastering Machines - Call for papers now open