Acer intros 10in Aspire One netbook
Don't mention the 'L' word...
Updated Acer has formally unwrapped the 10in Aspire One, which it said it'll equip with a six-cell battery for a claimed seven-hour runtime.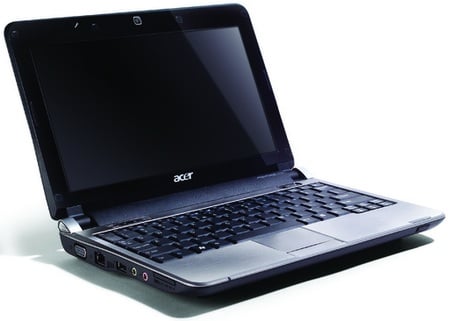 Acer's new Aspire One: now with 10in screen
The new AA1 packs in the customary 1024 x 600 display, 802.11b/g Wi-Fi, Intel Atom processor. Acer didn't detail the CPU specs, but it said the AA1 will come with a choice of 945GSE or 82801GBM chipset.
The former comes with the old 1.6GHz N270 Atom. The 82801GBM is actually the name for southbridge chip formerly known as ICH7, so it's not really an option in its own right. Rumours have suggested the new AA1 will also be offered with an N280 Atom, but Intel hasn't launched this yet, and probably won't do so until April.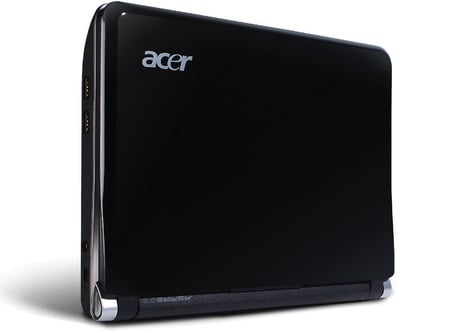 What about a Linux option?
Acer said the AA1 will include Bluetooth and, optionally, HSDPA 3G. For storage, it'll have a 160GB hard drive. It added that the machine can take up to 2GB of memory, though it didn't say how much it'll actually ship with.

Only slightly bigger than the original
It's reticence to communicate details include whether, as before, the new AA1 will be offered with Linux, when it will go on sale or how much it'll cost when it does. But with stocks of the existing AA1 being thin on the ground, we'd say it won't be long before the new one's on shop shelves.
Update
Acer's come clean on pricing and availability: £299 inc VAT, out mid-February. ®
Netbook Reviews...
| | | | |
| --- | --- | --- | --- |
| Acer Aspire One | Eee PC S101 | Dell Mini 9 | Advent 4213 |
COMMENTS
Hmmm...
Battery = good.
That's pretty much it. The screen is incredibly poor resolution for 10", but you can blame Intel/ Microsoft for their hardware restrictions on netbooks below a certain price point that use Atom and XP.. that's the real thing holding back any progress beyond the copycat clone specs we see on every netbook out there.
Almost hoping Apple will pull a fast one and enter the netbook market, without those restrictions stunting their hardware, they could bring out a real blinder of a product.
Has to be less than £200 for me to consider it a netbook
As far as I'm concerned a netbook is the most tech you can get for £200 in a small notebook form factor (so not touchscreen things like iPhones or Nokia 810s)
Going to £300 is just mad as it now directly competes with full function notebooks on price which drastically reduces the market. In my opinion the form factor on it's own isn't enough to make a successful product.
50% more and all you get is a bit more screen area?
What's the point? My AAO 150 cost GBP 199 at Asda and seems to have a remarkably similar spec except for the screen size (same pixel count, same disk). Why would anyone want to pay GBP 299 for that?
Idiots, The One is a great _little_ machine. If anything should change it is that heap of junk called Linpus Lite, I have never seen so many dependency errors! Just put an Ubuntu with Netbook Remix on it instead, e.g. Easy Peasy, http://www.geteasypeasy.com/.
More drawbacks than advantages
Like many of the previous posters, this just mystifies me. It's bigger and presumably heavier. The screen is larger but likely to be the same resolution so what's the point of that? The battery life is better but then it comes with a HDD rather than SSD, only one card reader and it's physically larger.
The same processor and similar memory in the existing One mean this has more drawbacks than advantages.
I must admit though, while my One is a very nice little machine and only cost £200, the battery life is too short so a 6 cell battery is a major improvement. Nevertheless, this is not going to tempt me to sidegrade (sorry).
what simon said
Linpus lite is shite. It is an undercover microsoft project intended to put people off Linux.
I put debian lenny on my One, and now it works properly.
When are we getting a debian icon?