Wii weights unveiled
"Six, seeven, eiiiight, niiiiiiine...."
If you're not convinced that Wii Fit and the Balance Board will really keep you in trim, then one firm's designed a Wii peripheral that can't fail to bulk up those biceps: Wii Weights.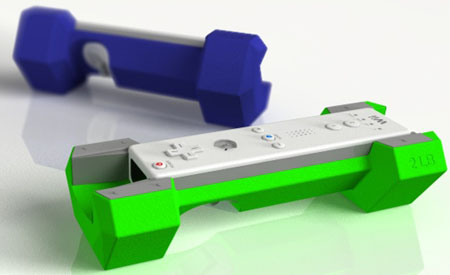 riiflex: bulk up while chilling out
Although still at the prototype stage and officially called riiflex – even though we think our name's better – the green dumbbell weighs 2lbs. The blue one will probably weigh in at 5lbs.
Your Wii Remote slots into the middle of each dumbbell and, as far as we can work out, that's it. There's doesn't appear to be a Venice Beach-style Wii weight workout game to go with the dumbbell duo, so you'll be left trying to control, say, Mario Part 8 while lifting the weights.
US customers can pre-order their own set of Wii Weights online now for $5 (£2/€3). A UK price hasn't been confirmed yet, so Blighty's puny gamers will have to keep fit the traditional way. ®
Sponsored: Are DLP and DTP still an issue?