Remember those useful IDs set up at the beginning? They can only be applied to the ID field and can't be used for the general purpose pasting of commonly used passwords. How about that really handy 'http://' or 'www.' option? Well, the Logio has the capability of searching for records. When not editing, simply use the keypad to enter the first letters of a record. And whaddya know? All those sites you entered are filed under 'H' or 'W'. Forget entering something like 'http://www.toxicbank.co.uk' or 'www.toxicbank.co.uk' - just put in 'toxicbank.co.uk' or you'll hate yourself, and the Logio even more.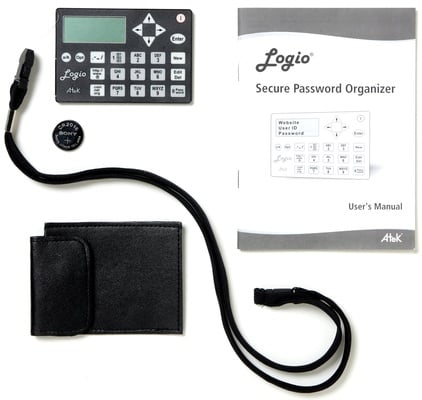 Don't chuck the battery out with the blister pack
Now acquainted with these foibles, the next test was to see how long it took to create a record. A personal best of 1m 50s was never repeated. Even records known off-by-heart took an average of 2m 10s to enter as mistakes were frequent. One record took around 3m 30s to complete as the screen scrolled over blinking out the .com part of the URL so it was entered twice and needed deleting a character at a time and then editing to display .co.uk.
If you're on medication, it's advisable to lower the dose to get to grips with the Logio. If you're not, you probably will be after using it for any length of time.
Verdict
Bearing in mind the Logio's 200-record capability it could take around ten hours to fill it up, making it a must-have for BOFHs paid by the hour. It will even generate passwords for you, which will speed things up a bit, but we won't tell.
While it does everything it's supposed to do, the Logio is a design failure. It's frustratingly unresponsive and, given it's mobile phone-style data-entry system, the Logio should have been configured in a portrait-style layout, with the display at the top and the demanding membrane keypad more easily operated in the hand, as if texting. In its current form, it's the ideal gift for a forgetful foe – a seizure is secured. ®
More Gadget Reviews...

Violet Mir:ror
DIY RFID kit

Novo Minoru

Zoombak
Locator

Motorola Tlkr7

Atek Logio password storage gadget
It does what it says on the tin, but extremely tediously for the price.
COMMENTS
Truecrypt is your friend
On an old 128mb usb attached to my keys.
Usually there is a usb port nearby when entering a password, and (despite the shoeing above) Ash is right, remembering PINs is not difficult (unless you have far too many)
Has merits
If this device were pointless, then why would I see so many passwords stored on sticky notes? Obviously people are having trouble remembering passwords. And obviously they are not all using the mobile phone and desktop software programs or USB drives that are available for this purpose. If a handy little device like this can help them manage passwords, that sounds to me like a potentially very useful product. Frankly, I like the idea that it's disconnected from the computer...seems safer to me since you never know what malware is lurking in the shadows of your PC (or phone!) and potentially seeing everything, including passwords on software or a USB drive.
@Bassey
Never much liked random generators myself - always preferred acronyms of English phrases. So in the case of your 12 char admin password, you could use something like 14Tmm14yltts! - I am the magic man. I am your link to the subconscious.
pointless
I just set all my passwords and PINs to the same thing -- my place of birth in the case of the former and my day and month of birth in the case of the latter.
Unless someone manages to get their hands on my birth certificate (tucked carefully in the back of my wallet, in my back pocket - safe as houses!) I've got nothing to worry about.
Pi in the face
@Ash - Interesting how you assume not being able to memorise 4 PINs is beneath you, and memorising pi to 78 decimal places is a 'real' achievement. Well, seeing as people have memorised it to 100,000 places I'm not sure about why you think you're any different to the 4 PIN forgetters , in the grand scale of things unless you can recite pi to 10,000 places you're a flop'pi' (disk).