Atek Logio password storage gadget
Remembers the login details you can't
Remember those useful IDs set up at the beginning? They can only be applied to the ID field and can't be used for the general purpose pasting of commonly used passwords. How about that really handy 'http://' or 'www.' option? Well, the Logio has the capability of searching for records. When not editing, simply use the keypad to enter the first letters of a record. And whaddya know? All those sites you entered are filed under 'H' or 'W'. Forget entering something like 'http://www.toxicbank.co.uk' or 'www.toxicbank.co.uk' - just put in 'toxicbank.co.uk' or you'll hate yourself, and the Logio even more.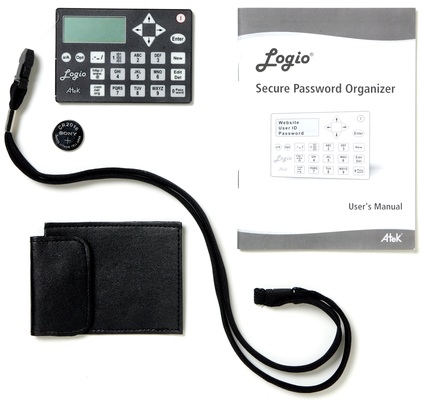 Don't chuck the battery out with the blister pack
Now acquainted with these foibles, the next test was to see how long it took to create a record. A personal best of 1m 50s was never repeated. Even records known off-by-heart took an average of 2m 10s to enter as mistakes were frequent. One record took around 3m 30s to complete as the screen scrolled over blinking out the .com part of the URL so it was entered twice and needed deleting a character at a time and then editing to display .co.uk.
If you're on medication, it's advisable to lower the dose to get to grips with the Logio. If you're not, you probably will be after using it for any length of time.
Verdict
Bearing in mind the Logio's 200-record capability it could take around ten hours to fill it up, making it a must-have for BOFHs paid by the hour. It will even generate passwords for you, which will speed things up a bit, but we won't tell.
While it does everything it's supposed to do, the Logio is a design failure. It's frustratingly unresponsive and, given it's mobile phone-style data-entry system, the Logio should have been configured in a portrait-style layout, with the display at the top and the demanding membrane keypad more easily operated in the hand, as if texting. In its current form, it's the ideal gift for a forgetful foe – a seizure is secured. ®
More Gadget Reviews...

Violet Mir:ror
DIY RFID kit

Novo Minoru

Zoombak
Locator

Motorola Tlkr7
Sponsored: Minds Mastering Machines - Call for papers now open

Atek Logio password storage gadget
It does what it says on the tin, but extremely tediously for the price.