Google AdWords: 11 herbs and spices revealed
Bidding on ignorance
Impressionable Advertisers
When you join the AdWords bidding, you're vying for more than just a spot on that Google search page. You're vying for a spot near the top of the page, where you're more likely to a get a click. With each so-called auction, the winning bidder gets spot number one, the second place finisher gets the next spot, and so on.
But it's not the bids - or, at least, not the bids alone - that determine where you finish. Each bid is multiplied by a Google mystery number known as a "quality score," and it's this hidden calculation that decides where your ad ranks.
This advertisers know. Or at least, some of them know it. What that they don't know is that Google is also using quality score to apportion impressions.
That ad hoc study we referenced in July compared Google AdWords with Yahoo!'s original search ad platform, which was replaced in 2007. Originally, Yahoo! used a straight keyword auction. The highest bidder got the highest rank. And every bidder got the same number of impressions. But according to this study, compiled by a high-volume advertiser, Google does things quite differently.
The ad that typically sits at the top of a Google page receives significantly more impressions than the ad that typically occupies the second spot, the ad in the second spot receives more than the third, and so on.
This is exhibited by the following graph, where the fractional boost in impressions per rank is plotted against an ad's typical position on the results page (0.5 is equal to a 50 boost). The blue line represents the old Yahoo!, and the red line is Google: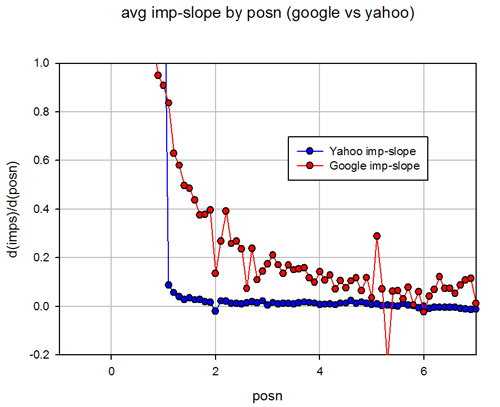 Google impression fiddling
Rich Stokes and AdGooRoo see much the same thing - though their numbers put even more impressions in the hands of those in the top rank. And presumably, AdGooRoo's numbers are more reliable. Stokes won't say how many servers he's running, but he will say he's got machines in the US, the UK, Australia, and Asia that do nothing but track search ads.
Lifted from Stokes' book Mastering Search Advertising, this next graph shows how impressions are apportioned on the keyword search "free spyware." Impressions are plotted on the x-axis, average ad position on the y-axis: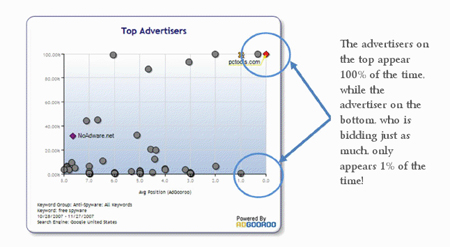 Fiddling confirmed
Across its entire search engine, Stokes says, Google is putting 80 per cent of the impressions in the hands of three per cent of its advertisers. It's Google's search engine. And Google's advertisers. And it has every right to show this sort of favoritism. Except that it's a monopoly. And it's not telling advertisers what's what.
We've asked Google countless times whether some ads receive more significantly more impressions than others, and inevitably, it says something like this: "There is an unique auction for each query, so it depends on a variety of factors."
We've also listened in as a longtime advertiser asked their Google AdWords sales rep for clarification on this issue. The sales rep gave much the same non-answer.
Never mind that it's obvious. If you do the same search ten times, you get ten different sets of ads.