iPhone app warns of driving restrictions
Thou shalt not drive and dial in Wyoming
An iPhone application's been developed to help keep drivers abreast of local restrictions on mobile phone use.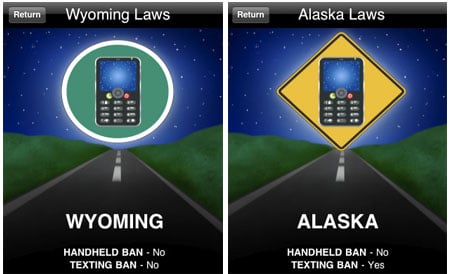 Cell Ban informs drivers of local phone use restrictions
If you're driving through US State Connecticut for example, then Cell Ban will warn you that talking into a handheld phone is against the law, but that texting is OK.
Alternatively, the app could warn that any form of handheld mobile use while driving on Italian roads is banned.
The app provides written warnings about restrictions and coloured quick reference signs designed to give an overview of permitted mobile phone use in your area.
For example, if you see a red sign flash up then it's safe to assume that all handheld phone use while driving is banned, but a green sign means the opposite.
Cell Ban covers many countries around the world, including the UK and US, and is available to download now through Apple's App Store for a mere 50p. ®
Sponsored: RAID: End of an era?