Desktop integrated graphics shoot-out
The best IGPs from Intel, AMD and Nvidia slug it out
AMD AM2+ Phenom on Nvidia nForce 780a with GeForce 8400 GS graphics
Example motherboards: Foxconn Destroyer (£202), MSI K9N2 Diamond (£166)
The fourth option is to use Nvidia graphics on Phenom. This is provided by the nForce 780a chipset. The graphics core in question is the GeForce 8400 GS, which has a specification that's very similar to the GeForce 9300 but there is a fundamental difference. GeForce 9300 and 9400 motherboards have so far been Micro ATX designs with a single PCI Express graphics slot. The Foxconn Destroyer is a big, expensive motherboard that supports Tri-SLI so the integrated graphics are intended for use with Nvidia's Hybrid SLI feature.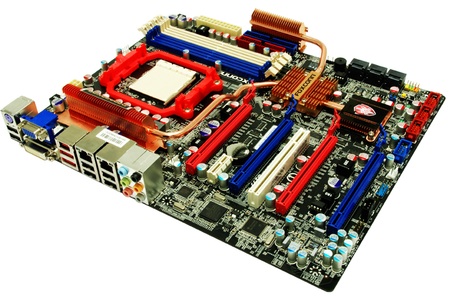 Foxconn's Destroyer: slow, hot and expensive?
This is just as well as the GeForce 8400 GS was unimpressive in our tests and produced similar results to the Intel G45 in all of our benchmarks. The power draw of this system was, at a scary 100W, 20W higher than the AMD 790GX at idle. Under load, it hit 135W, 5W higher than the AMD part.
Video playback was very good and was indistinguishable from the Radeon HD 3300 and GeForce 9400, but this would be a bizarre motherboard to choose for movies unless you were wearing headphone to block out the noise from the cooling system.
To our jaundiced eyes, the nForce 780a looks like it was developed as a way of enabling Tri-SLI on Phenom and in that respect it succeeds. However it is slow, hot and expensive.

No shortage of portage
Verdict
The natural role for integrated graphics on Socket AM2+ is, surely, inside a Media Centre that's small, cheap and quiet. The Foxconn Destroyer and nForce 78a deliver exactly the opposite. ®

Sponsored: Minds Mastering Machines - Call for papers now open