Desktop integrated graphics shoot-out
The best IGPs from Intel, AMD and Nvidia slug it out
AMD AM2+ Phenom on AMD 790GX with Radeon HD 3300 graphics
Example motherboards: MSI DKA790GX Platinum (£125), MSI KA790GX (£77)
AMD launched its superb 780G chipset early in 2008 with integrated Radeon HD 3200 graphics that employ 40 unified shaders. When the 790GX chipset was released later in the year, the graphics core was labelled Radeon HD 3300 but it looks very similar to the core of the 780G. The only obvious difference is a move from Hybrid graphics to Hybrid CrossFire X.
The 790GX chipset makes serious advances over 780G in other ways as the SB750 southbridge assists overclocking.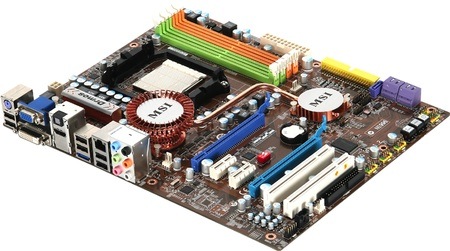 MSI's DKA790GX: impressive graphics?
The Radeon HD 3300 IGP beats the Nvidia GeForce 9400 by a narrow margin in 3DMark06 and loses by a similar amount in PCMark05. In our gaming tests we had mixed results. The HD 3300 core delivered the DirectX 9 goods in Far Cry and Far Cry 2 but lost out when we ran Far Cry 2 on DirectX 10.
The other area of concern is that the power draw was rather high, which can doubtless be blamed on the Athlon X2 processor. The Phenom family requires proper cooling if you want to avoid meltdown and the situation only gets worse if you choose an X3 or X4 model.
On the plus side, the AMD IGP's video playback is absolutely superb, which makes the HD 3300 a natural candidate for a Media Centre PC. You'd be wise to choose a suitably low-powered processor, in which case overclocking is unlikely to be a serious consideration so you might as well choose a motherboard with the older, cheaper 780G chipset.
Verdict
The Radeon HD 3300 graphics in the 790GX chipset are impressive but they are let down by the toasty Phenom processor.

Sponsored: Minds Mastering Machines - Call for papers now open