Desktop integrated graphics shoot-out
The best IGPs from Intel, AMD and Nvidia slug it out
Core 2 on Nvidia GeForce 9300, 9400 and Quadro FX 470 graphics
Example motherboards: Asus P5N7A-VM with GeForce 9300 (£89), Gigabyte GA-E7AUM-DS2H with GeForce 9400 (£117), Asus P5N-VM WS with Quadro FX 470 (£177)

Nvidia offers three graphics cores for the LGA775 Core 2 platform that share a common root. All three are fabricated on a 65nm process, and support DirectX 10.0 and Shader Model 4.0 with 16 unified shaders. The GeForce 9300 is the baby of the group, with a core speed of 450MHz and shaders that run at 1200MHz, while the top-end GeForce 9400 has clock speeds of 500MHz and 1500MHz, respectively. The other features of the two chips are identical.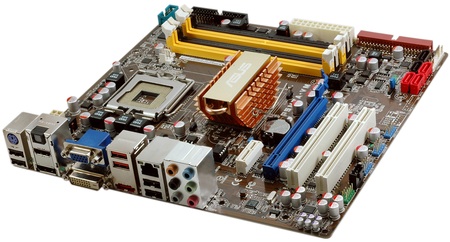 Asus' P5N7A-VM: the natural choice for Core 2 CPUs?
We expected to find that the GeForce 9400 would draw more power than the 9300 but in fact the Zotac GeForce 9300 drew 5W more than the Gigabyte 9400 under load. It's quite possible that the balance was tipped by the active fan on the chipset of the Zotac board as the Gigabyte is passively cooled. The Nvidia chipset is a single chip unlike the northbridge/southbridge combo used by both Intel and AMD, so the cooling has to work fairly hard. We're none too impressed by passive coolers on Nvidia chipsets and recommend that you use a case fan to keep the chipset below 60°C or 70°C.
The third IGP in the set is the Quadro FX 470, which is effectively identical to GeForce 9400. However, the drivers identify it as a workstation GPU. You'll pay a hefty price for the Quadro FX 470 as the Asus P5N-VM WS motherboard sells for £177. So that's a premium of £60 for the honour of having your graphics drivers and software recognise a Quadro rather than a GeForce.
Both GeForce 9300 and 9400 allowed us to play Far Cry at 1680 x 1050 with the image quality on High. That's impressive enough but we were also able to play Far Cry 2 moderately well with the quality settings turned to Low. Although PCMark05 shows that the graphics in GeForce 9400 have a significant advantage over GeForce 9300, we didn't see this reflected in 3DMark06 or when playing games, so we favour the cheaper 9300 as it does the same job at a lower price.

Gets too warm for a media centre?
Performance in movie playback is very good and the GeForce 9300 trounces Intel G45 in a fight that is rather one-sided. The only reservation we have is that GeForce 9300 draws more power than we would like and as a result it gets a tad warmer than is ideal in a Media Centre.
Verdict
The GeForce 9300 gets the big thumbs up in comparison with Intel G45, making it the natural choice for anyone with a Core 2 processor.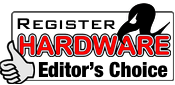 Sponsored: Minds Mastering Machines - Call for papers now open