Cowon iAudio O2 personal media player
Cowon A3 with SSD instead of HDD
Being a Cowon PMP, you would expect the O2 to support pretty much every format, codec and container under the sun. You won't be disappointed: the list of supported audio codecs includes MP3, Flac, Ogg, WMA, AAC, Apple Lossless, True Audio, Monkey, MusePack, WavePack, G.726 and PCM.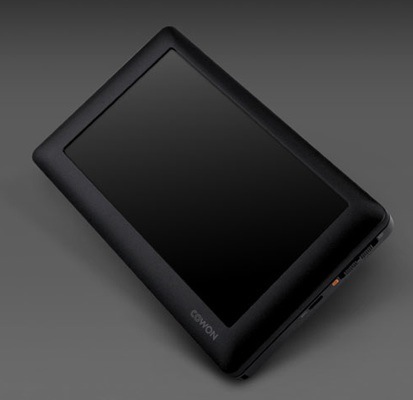 Also available in black...
On the video side of the street, you get support for DivX and Xvid; WMV 7, 8 and 9; H.264; MPEG 4; and Motion JPEG. The O2 supports AVI, Matroska, OGM, MP4 and ASF containers. Heading off the edge of the map, the O2 will also play DAT and MTV files. Finally, you can also view JPEG, GIF, PNG, TIF, BMP and RAW images. It also works just fine with SubRip -.SRT – subtitle files.
While file support for non-DRM content may be fine, we couldn't synch any of the test files we downloaded from BBC's iPlayer, suggesting the the O2 and PlaysForSure DRM are not on speaking terms.
The O2's screen, while certainly big enough is frankly a bit lacking in the old resolution stakes. While the A3 boasts a whopping 800 x 480 resolution, the O2 makes do with 480 x 272. If you want to get technical then the A3 has a dot density of 236 pixels per inch, while the O2 makes do with 130ppi. And things don't improve when you compare the O2 to the iPod Touch – 163ppi - or its Cowon stablemate, the S9 - 166ppi.
Thankfully, the O2's screen looks better than the bare numbers suggest. Yes it lacks the absolute pin-point clarity and absorbing definition of the A3 and Archos 5, or the trick AMOLED screen on the S9, but it's still a perfectly decent device for watching full-length feature films. The screen size ensures that even 2.4:1 aspect-ratio movies don't give you 'PMP-squint'.
It also has a full 16m-colour palette which pays dividends when it comes to matters of shade and tone and goes some way towards making up for the lacklustre resolution.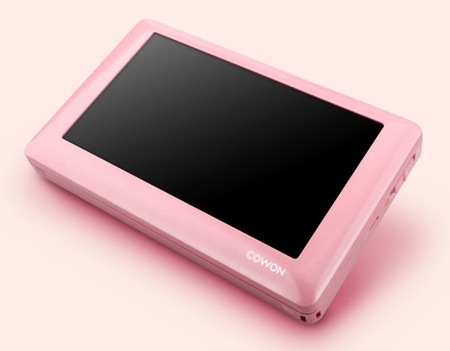 and... er... pink
As usual with Cowon video players, the O2 proved capable of playing files of a much higher resolution than its screen's native size - the best we managed was a 24f/s 720p AVI file.
Sponsored: Minds Mastering Machines - Call for papers now open