Cowon iAudio O2 personal media player
Cowon A3 with SSD instead of HDD
In the O2's defence, you could say that being a video player means that remembering which files are put were is less of an issue than it would be on a dedicated music player. Fill a 16GB card with 700MB video files and you only have 20-odd files to scan through to discover what's on the card before you look into the player's on-board memory. Filling a 16GB card with 256Kb/s MP3 files and trying to keep a handle on what's where would be a whole different kettle of fish.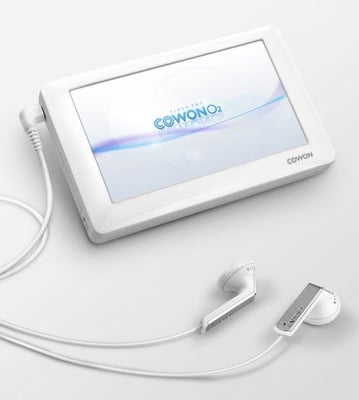 Splendid audio quality
Cowon reckons a full charge is good for 18 hours of audio playback or eight of video. The best we managed was 15.5 and 6.5, respectively, though we could probably have improved on these if we had turned the screen brightness down.
As per usual, we plugged the O2 into Ubuntu and Mac OS X boxes and on both occasions it popped up on the desktop without hesitation, though MTP operation seemed to be restricted to Vista and WMP 11.
The 16GB O2 will set you back £204, the 32GB £243. With 32GB SDHC cards available from around £65 that means you can have a 64GB media player for just a shade over £300.
The fly in that ointment is that you can get a 60GB Archos 5 for around the £250 mark. OK, it's heavier, H.264 codec support costs extra and the battery life isn't as good, but you get Wi-Fi, a web browser and a higher resolution screen into the bargain. Or you could just buy a 60GB A3 for around £235.
Verdict
The O2 is very much a game of two halves. Format and codec support is superb and it'll play pretty much any resolution video file you throw at it. The sound quality is excellent if a little on the quiet side, it is Biblically straightforward to use, and the ability to expand the storage is not to be sneezed at.
One the other hand, having a screen larger than that of the A3 but of a lower resolution just seems daft, while some will consider the lack of gapless playback, ID3 tag and playlist support to be deal breakers from the outset. ®
Thanks to AdvancedMP3Players for the review sample
More PMP Reviews...

Samsung P3
Preview

Cowon S9

Archos 7

Sony Walkman S
Sponsored: Minds Mastering Machines - Call for papers now open

Cowon iAudio O2 personal media player
A touchscreen flash-storage version of the excellent A3 is a great idea, but it's let down a little by the screen resolution and lack of support for ID3 audio tags.
Price:
£204 (16GB) £243 (32GB) RRP