World's first biometric, waterproof mobile surfaces
A secure phone fit for the pool?
Pin numbers are generally about as secure as most mobile phones get. But Fujitsu has launched what it claims is the world's first waterproof handset with an embedded biometric sensor.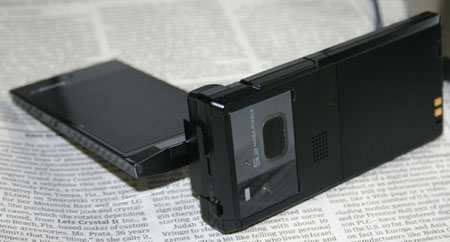 Fujitsu's F-01A: waterproof and secure
Although not the world's first phone with a biometric reader – Fujitsu already has 16 others, apparently – the F-01A's combined waterproofing means that your data's secure whether you drop the talker into a river or the hands of a mugger.
That's provided the phone doesn't fall further than a metre and is plucked out of water within 30 minutes.
As for its features, the Symbian-based F-01A supports e-Wallet transactions. This'll let you use it like a debit card, so the biometric reader's definitely a wise choice on Fujitsu's part. The phone's touchscreen measures 3.5in, and a 5.2Mp camera is on board too.
You'll be able to pick-up 1Seg telly broadcasts through the integrated tuner, but since 1Seg is a Japan-only service it's reasonable to assume that it'll be some time before the F-01A makes it to Blighty, if at all. ®
Sponsored: Minds Mastering Machines - Call for papers now open