Where has all the bad storage gone?
It's all too darn good these days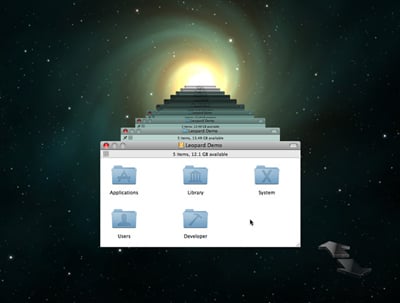 Apple's Time Machine interface.
Last year real backup heaven arrived for me when I replaced a dire Tosh Windows notebook with a MacBook. It came with Apple's Time Machine. My MacBook with its Tiger O/S had a usable, near continuous (hourly), and automated backup facility. Oh frabjous day. Not only that but it had the world's sexiest backup software interface bar none.
It got better. You can have a wireless link to an external disk, and restoring files was not only easy but enjoyable, an excuse to go time travelling. I took to deleting files just so that I could restore them and enter that great screen doorway into the past.
Now Redmond, dratted Balmerdom, has gone and crafted Vista, and among all its other dreadful aspects is the lack of a Time Machine-like backup facility. There's ShadowCopy, but the interface isn't as sexy as Time Machine's. It's dependent on restore points and data is saved, I understand, on the system drive. Er, so what happens if it breaks?
It doesn't look as if a Time Machine clone is in Windows 7 either. Can't someone, anyone, craft some software that reverse engineers or clone Time Machine for Windows? Otherwise I 'll just have to buy a Drobo.
Maybe the Ballmer drones are thinking that cloud backup will sort it all out. Like I want to pay yet another PC tax. It's my data and I want it in one of my places so I can get it back in a flash, just like that, not so that I have to log on to the cloud, verify my ID and then wait while four gigs of data comes from Belgrade or Tunisia or wherever the data centre vault is, using an internet link suffering from contention with other users downloading Mamma Mia. I want my data back instantly, Time Machine style.
How about Time Machine and a Drobo with Windows support in Time Machine? That would float a whole flotilla of my boats, and stop this personal data storage protection whinger right in his tracks. Anyone got any better ideas? ®