Inventor designs raindrop MP3 projector
'Raindrops keep falling on my head...'
An inventor has designed a wacky MP3 player that does away with a traditional LCD screen in favour of a projection system.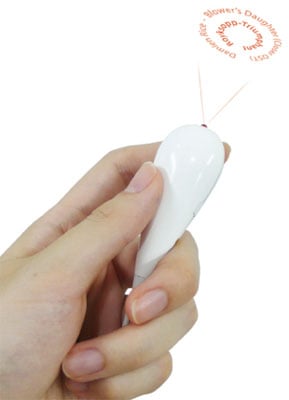 Gowoon Jeong's Music Drop player projects track names
The Music Drop player, so named because of its raindrop shape, casts track names, artist details and play progress onto surrounding surfaces, from walls and to palms. Oddly, the text's projected in a spiral shape – which will surely make it hard to read.

Musical information, in the palm on your hand
Chinese designer Gowoon Jeong said he ditched a traditional LCD screen to help keep the Music Drop's size down and to make it easier for people to see music information. He also claimed that the projection method gives... ahem... an "unexpected pleasure".
The MP3 player has iPod-style buttons for skipping through tracks, rewinding and fast-forwarding. It looks like tracks are loaded onto the device through a micro USB connection, with the player suspended around your neck.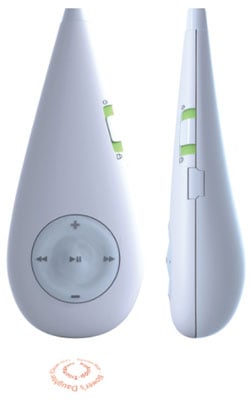 Hopefully it'll support iTunes
Sadly, the player can't handle movie projection – unlike Samsung's recently unveiled Show phone.
Plans to develop Music Drop haven't splashed down yet. ®
COMMENTS
very nice
This is a lovely idea. My only reservation is the thought of the back-of-the-bus crew projecting lyrics on my forehead all the way home.
Ah well - I guess that will be my own personal suffrage for the sake of art.