Toshiba NB100 netbook
Tosh takes netbooks seriously - too seriously...
The Synaptics-made trackpad's small too - and not as big is the silver surround might suggest it is in pictures. The left mouse button beneath is larger than the right, presumably so you're less likely to get the contextual menu by mistake. It's not the best netbook touchpad and not the worst. As always with these devices, keep a mouse handy.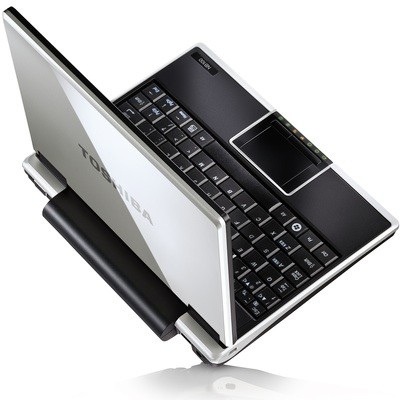 Eee-size keyboard
Now, a quick run around the machine. The left is featureless but for a single USB port right at the front and a locking slot at the rear. The front of the NB100 presents nowt but the 3.5mm microphone and earphone sockets. The right side is home to the other two USB ports and the SDHC card slot - the Ethernet, VGA and power ports are round the back.
The battery plugs into the back of the machine, as is usually the case with netbooks. The one that comes with the NB100 extends a centimetre or so beyond the edge the computer, suggesting it's an extended-life battery. A closer look reveals it to be a four-cell unit rated at 38Wh which converts to 5278mAh. So it's bigger than most netbook power packs, but still below the latest Asus Eee PC models' six-cell 6600mAh batteries.
Our review model came with Windows XP pre-loaded, but Toshiba does offer a Linux version, though memory and storage capacities fall to 512MB and 80GB, respectively. All this knocks the price down from £286 to £252 inc VAT. Not a bad price, but not up there with the sub-£200 Acer Aspire One - although you get more storage capacity with the cheapest Toshiba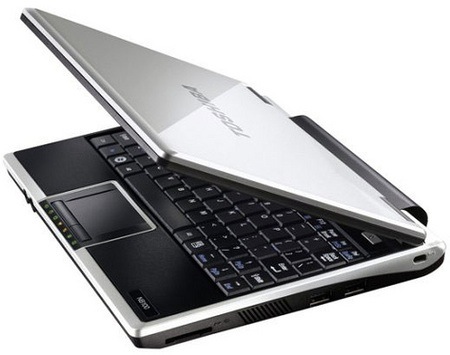 Standard SCC spec
Toshiba pre-loads the NB100 with a few extras, most notably Toshiba Easy Media, which includes a DVD player and creator on the off-chance you also buy a separate USB-connected optical drive. Toshiba also provides its own network connection utility, which calls up Atheros' WLAN utility in place of Windows' own. There's a nice webcam app, Camera Assistant, too. Toshiba also bundles Microsoft Works 9 - not the version with ads, thank goodness - and a 60-day Office trial. There's anti-virus sampleware too.
Sponsored: Minds Mastering Machines - Call for papers now open